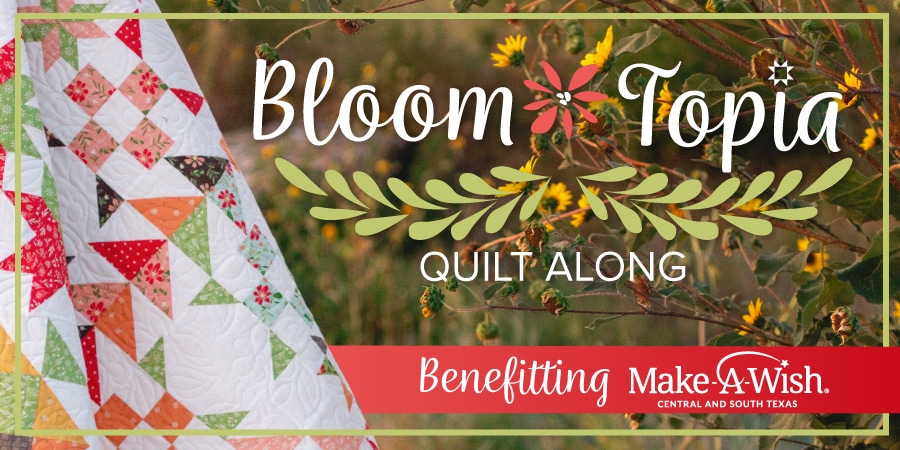 We're ready for our 7th Annual Charity Quilt, and we just know you're going to love this one as much as we do!  It's the 2020 Bloom-Topia Quilt Along benefitting Make-a-Wish! Together, Fat Quarter Shop and Moda Fabrics will match up to $20,000 of your donations to Make-A-Wish Central & South Texas.
Without further ado… here is the beautiful Bloom-Topia Quilt!
Bloom-Topia is a sampler quilt featuring Summer Sweet by Sherri and Chelsi for Moda Fabrics. It combines unique and historical blocks in a vintage style, along with a specialty pieced back that is a picture-perfect way to commemorate our time sewing along together.
We have a Bloom-Topia Quilt Kit and Backing Set available for pre-order! As a bonus for purchasing the Bloom-Topia Quilt Kit, the full set of patterns for the quilt top and finishing will be included, along with a special template and Triangles on a Roll 3″ triangle paper. It all comes packaged in an exclusive keepsake box with magnetic closure. The Bloom-Topia Specialty Pieced Backing Set comes with the backing pattern and an exclusive mousepad.
You can also use your own choice of fabrics with our fabric requirements guide. Simply follow along on our blog to download the patterns as they are posted!
If you're new to our Charity Quilt Along, welcome! The way the fundraiser works is that we offer the Bloom-Topia patterns as FREE downloads during the quilt along for a suggested donation of $5 each to our Make-A-Wish Central & South Texas campaign.
Starting February 1, 2020, we will release two patterns each month for six months here on the blog. Also, we're pleased to announce that Sherri and Chelsi are filming the free complementary videos for each pattern.

We have our 2020 Bloom-Topia Quilt Along Page ready, which will be updated with photos, patterns and video tutorials throughout the quilt along. We hope to see you back here on the blog on January 15 for the kickoff of our 2020 Bloom-Topia Charity Quilt Along!
Until then, Happy Quilting!
Stay connected to FQS!