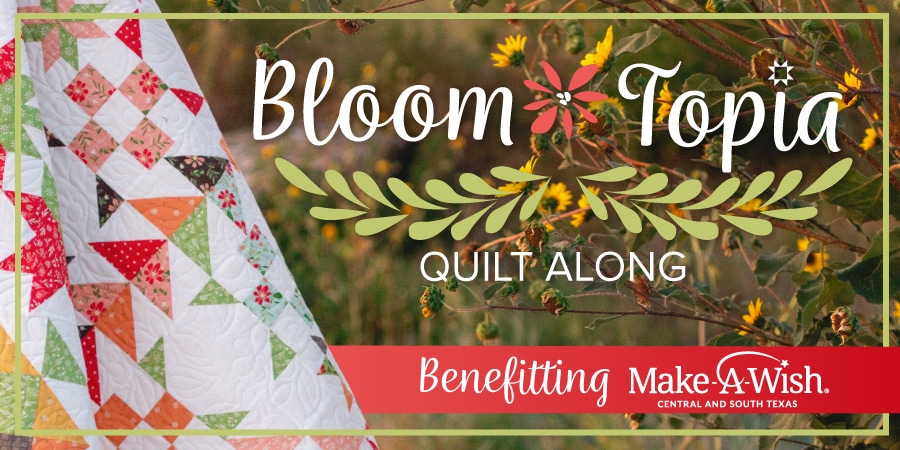 Welcome back to the Fat Quarter Shop 2020 Charity Quilt Along, Bloom-Topia! We're onto the tenth release of Bloom-Topia, the final block of Bloom-Topia! Congratulations to you for getting this far and to those still sewing to catch up, there is no rush! This round is the Richmond Block that makes use of Half-Square Triangles and Four Patch Units. What a fun final block!
We're sewing with the Summer Sweet collection by Sherri and Chelsi for Moda Fabrics. To make a quilt just like this one, you'll need the Bloom-Topia Quilt Kit and Bloom-Topia Specialty Pieced Backing Set, available only at Fat Quarter Shop. If you're sewing with something different, here are the fabric requirements.
Video Tutorial
Watch the video tutorial on these blocks for extra help! If you are reading via email, please click here to watch.

Together, Fat Quarter Shop and Moda Fabrics will match up to $20,000 of your donations in 2020 to our Make-A-Wish Central & South Texas fundraiser, tripling each dollar you donate.
This year's charity quilt along benefits Make-A-Wish Central & South Texas! We are offering all of the patterns to make this quilt for free, we just ask that you donate $5 per pattern download to this amazing organization and 100% of the proceeds from the pattern downloads will be donated to Make-A-Wish Central & South Texas. We are partnering with Moda Fabrics once again, who has generously worked with us since we started doing these quilt alongs to benefit our community.
Fat Quarter Shop is happy to be partnering with Moda Fabrics to match up to $10,000 each in donations for this worthy cause.


Bloom-Topia Quilt Along
We have a great lineup of quilters (including the fabric designers, Sherri & Chelsi!) quilting along with us! Our quilters used a mix of the quilt kit and their own fabrics to make their blocks. Click on each of the photos to see them up close and see what collections they used as well as tips and tricks they have to make it! Here are some of their blocks:
Check out the next blog to see our FQS staffer's finished quilts!
Bonus Finishing Patterns for Bloom-Topia
You have already helped us reach our goal, and we are so grateful! As a special thank you, we've released our fifth finishing pattern. Although we have already surpassed our fundraising goal, the total continues to climb. Every cent goes to Make-A-Wish so please feel free to keep donating as we are sewing along and make more wishes come true.
With your help, we surpassed our goal of $30,000 in donations towards Make-A-Wish Central & South Texas! When you donate, you bring closer to our goal of granting five wishes and closer to releasing a new finishing pattern. Thank you for helping us grant these wishes and for continuing to donate!
We were featured on CBS Austin! In the newscast, we revisit Avery, a Make-A-Wish recipient who your donations have helped! Read the article and watch the newscast to see more about how you are helping heal children in need. Please click here to view the video.
Bloom-Topia Giveaway
Congratulations to our Release 9 winner, Kathy Lindsay (@lindsay32902)! Thank you for sewing along!
You could win this round! Fill out the form below and sew along with us.
Join us!
Don't forget to bookmark our 2020 Bloom-Topia Landing Page to refer to throughout the quilt along. We'll link all the pattern releases there. Get inspired and share with #bloomtopia on Instagram. We hope to see you back here on the blog on Wednesday, July 1, for the next pattern release of our 2020 Bloom-Topia Charity Quilt Along!
Check out our Bloom-Topia Stitch Along for cross stitch! You can find all the information and updates on our Stitch Along page.
Until then, Happy Quilting!
Stay connected to FQS!