With so many thread weights on the market, it's tough to tell which one is perfect for a project! We're here to help you distinguish between those tricky little spools with some descriptions and up-close stitch comparisons of Aurifil threads.
Print out this post and keep it as a reference sheet in your crafting room, or bookmark it for the next time you're at a fork in the road when it comes to selecting thread! We have a special week-long sale on all Aurifil threads that starts today! Read on for all the details.
80wt Aurifil thread is their thinnest weight yet!
Ideal for machine and hand applique
Perfect for English Paper Piecing
It comes on a wooden spool
50wt Aurifil thread can be used for machine piecing, hand piecing, machine applique, hand needle turned applique, fine needlework, foundation piecing, miniature patchwork, detailed quilting, bobbin lace making, and machine embroidery.
Most popular cotton quilting thread
One of the most versatile threads
It comes on an orange spool
---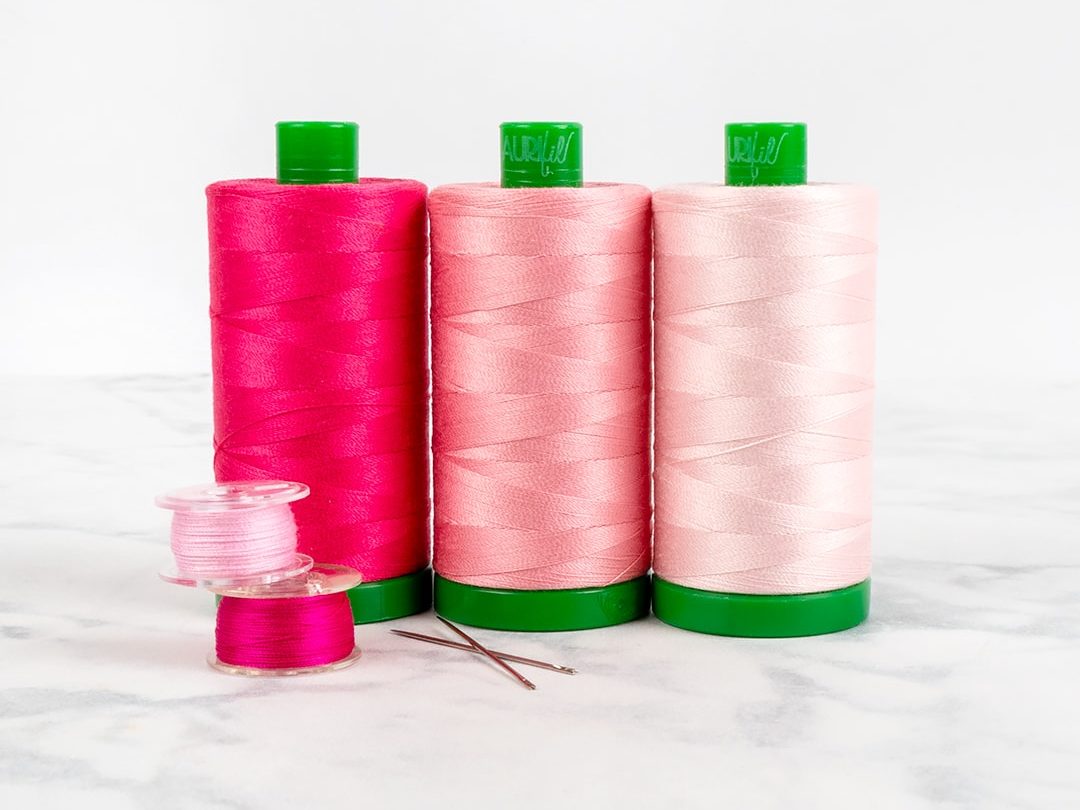 40wt Aurifil thread is ideal for machine quilting, applique, embroidery, and hand stitching binding.
The most popular machine embroidery thread
Perfect for precise work on fine fabrics
Slightly heavier than 50wt thread, which allows the thread to stand out more
It comes on a green spool
28wt Aurifil thread is ideal for blanket stitch, hand applique, hand quilting, and machine embroidery.
Gives some stitch definition and interest
On a sewing machine, use it with a Quilting or Denim needle with 50wt thread in the bobbin
It comes on a gray spool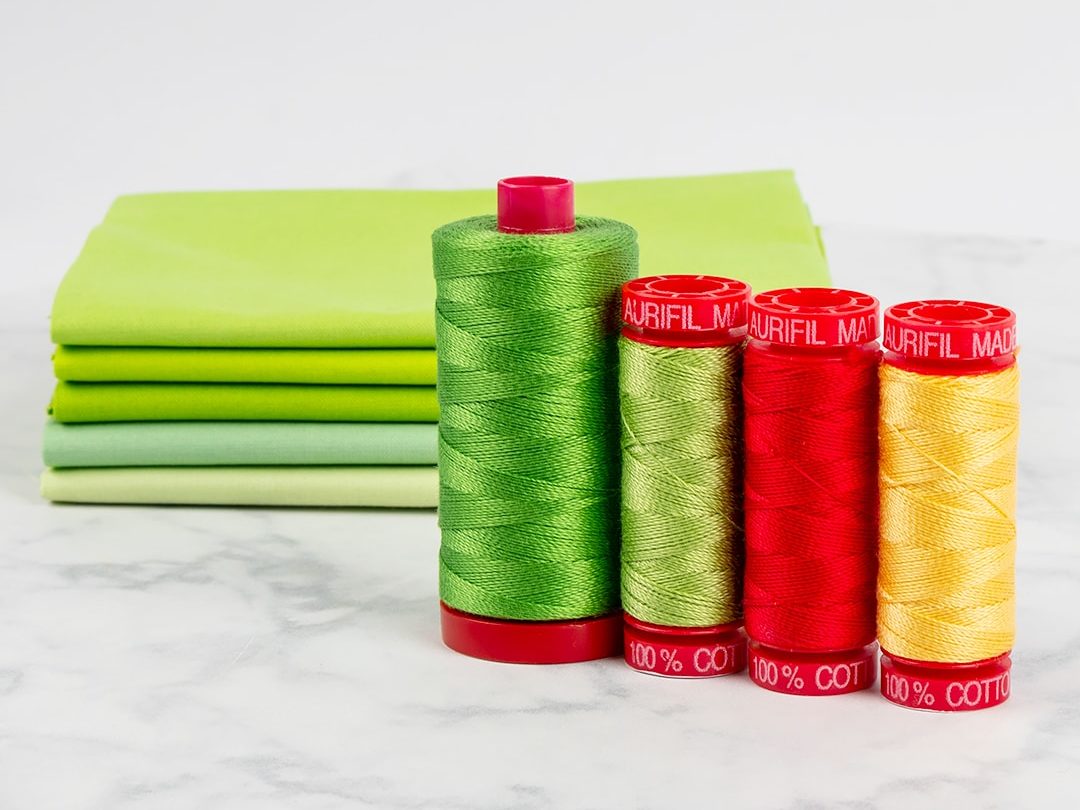 12wt Aurifil thread is ideal for hand quilting, big stitch hand quilting, and machine quilting.
Creates a defined look
When machine quilting with 12wt thread, use 40wt in the bobbin, increase your stitch length, lower your tension, use Topstitch size 90 needles, and stitch slowly for best results.
It comes on a red spool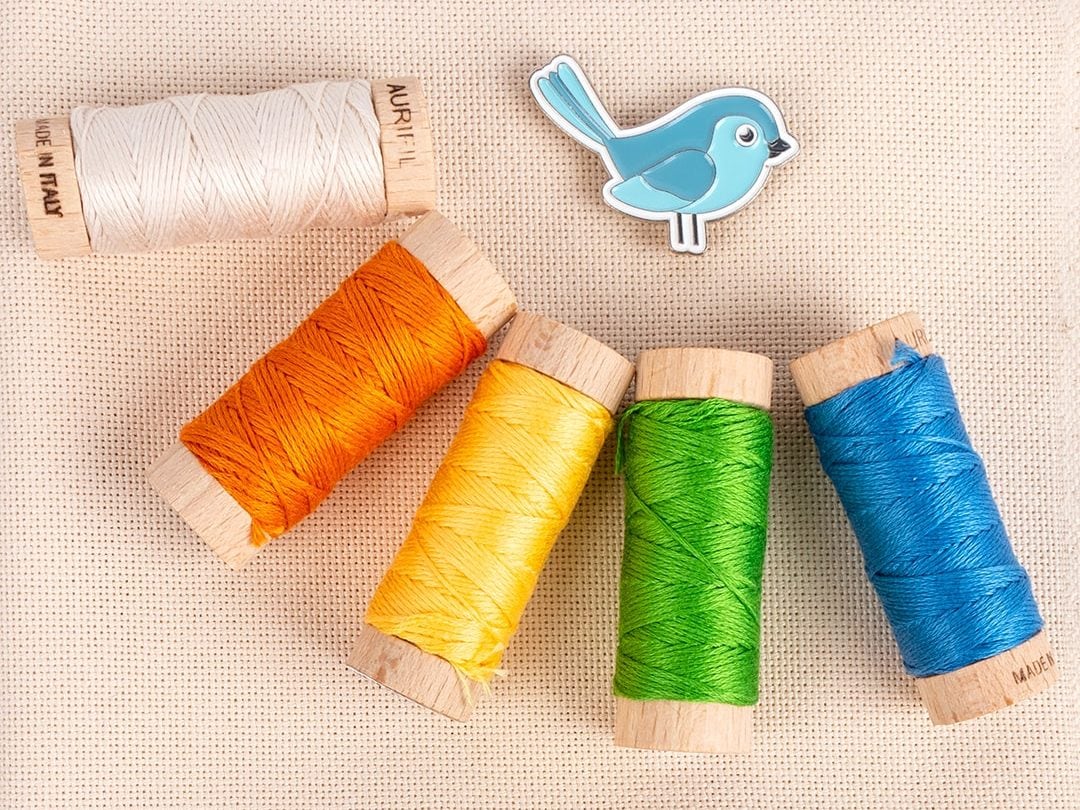 AuriFloss cotton floss is ideal for hand embroidery, hand quilting, cross stitch, and needlepoint.
6-ply stranded floss
It comes on a pale wooden spool
Tip: You can separate the strands to achieve desired floss thickness and coverage.
Aurifil Thread Stitching Details
Now that you've got the basics down, let's get to stitching!
Here's a close-up view of how each weight looks side-by-side.
What thread weight do you use the most? Tell us in the comments below.
You can find many brands of high-quality thread for sewing at Fat Quarter Shop, including Gutermann, Mettler, Sulky, Superior, and Wonderfil. We also carry a full range of cross stitch and embroidery thread.
Follow Fat Quarter Shop on Facebook and Instagram! Get inspired and share with us on social media, and be sure to tag us so we can see and share your work!
Happy Quilting!
Stay connected to Fat Quarter Shop!