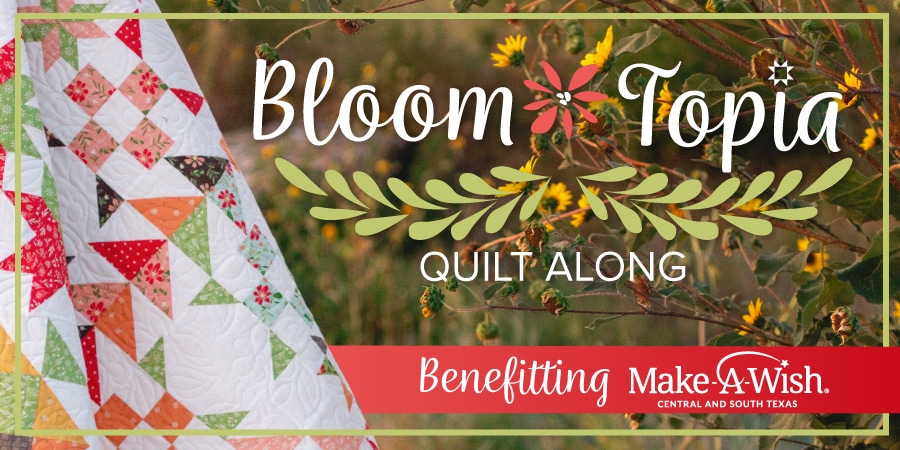 Welcome back to the Fat Quarter Shop 2020 Charity Quilt Along, Bloom-Topia! We're one step closer to finishing this beautiful quilt!  This week we are completing the Bloom-Topia quilt and opening up the auction for two completed quilts! Have your longarmer on standby, because we're ready to put the specialty pieced back together!
You can find all the patterns and videos to date on our Bloom-Topia Quilt Along page.
Video Tutorial
Sherri and Chelsi show how the backing goes together in this video tutorial. If you are reading via email, please click here to watch.
Together, Fat Quarter Shop and Moda Fabrics will match up to
$20,000

$30,000 of your donations in 2020 to our Make-A-Wish Central & South Texas fundraiser.

This year's charity quilt along benefits Make-A-Wish Central & South Texas! Our goal this year was to raise $50,000 to grant five Wishes and we surpassed our goal! Each $10,000 raised grants a Wish to a child with a life-threatening illness. Thanks to all of you, our generous quilting community has donated $56,382 to date! Fat Quarter Shop will donate $20,000, and Moda Fabrics will donate $10,000. We hope to raise even more with our Bloom-Topia quilt auction on eBay!
Bloom-Topia Quilt Auction
We are sew excited to have two Bloom-Topia Quilts for auction!
100% of the sale of these quilts will benefit Make-A-Wish Central & South Texas to support their wish-granting work for children with critical illnesses.
The auction is open on eBay now through Saturday, July 25 at 8:45 AM CST.
The quilts for auction are:
Sherri McConnell's Quilt (@aquiltinglife) using Summer Sweet by Sherri & Chelsi for Moda Fabrics
Pat Sloan's Quilt (@quilterpatsloan) using Bonnie Lane by Pat Sloan for Benartex Fabrics
Sherri McConnell of A Quilting Life is auctioning off her Bloom-Topia quilt made with Summer Sweet by Sherri & Chelsi for Moda Fabrics! This quilt was pieced by both Sherri McConnell and Chelsi Stratton from blocks used in our video tutorial series and quilted by Marion Bott. You can view the auction HERE.
Pat Sloan has generously made this beautiful Bloom-Topia quilt for the fundraiser auction. It's made with Pat's fabric collection, Bonnie Lane for Benartex Fabrics. This quilt was pieced by Pat Sloan, celebrity quilter, teacher, author, designer podcaster and Voice of Quilting! Pat Sloan has added a signed label to the quilt back as well. It is quilted gratis by Cindy and Dennis Dickenson of Pinkpaw & Co. You can view the auction HERE.
100% of auction proceeds will be going to Make-A-Wish Central & South Texas! The auction ends at 8:45 AM on Saturday, July 25, so be sure to follow it for your chance to bid!

Bloom-Topia Quilt Along
We've been lucky to have a great lineup of quilters (including the fabric designers, Sherri & Chelsi!) quilting along with us! Our quilters used a mix of the quilt kit and their own fabrics to make their quilts. Click on each of the photos to see them up close and see what collections they used. Here are their finished quilt tops:
FQS invited some quilty staff members to join!
We were featured on CBS Austin! In the newscast, we revisit Avery, a Make-A-Wish recipient who your donations have helped! Read the article and watch the newscast to see more about how you are helping heal children in need. Please click here to view the video.
Bloom-Topia Giveaway
Congratulations to Suzanne K., the winner of our Finishing Giveaway. Her quilt top looks gorgeous!
This is the last giveaway of the series! If you plan to finish the quilt back, please fill out this form to enter to win a Summer Sweet Fat Quarter Bundle courtesy of Moda Fabrics with a $25 Fat Quarter Shop Gift Certificate, a Bloom-Topia Keepsake Box, quilt patterns by Sherri McConnell and Chelsi Stratton, and a Fat Quarter Shop Yardstick Box. For this giveaway, we will need a photo of your completed quilt back in order to receive your giveaway prize. (*Giveaway closes July 23 at 11:59 PM CST. Winners will be contacted promptly and announced on the Wrap-up blog post on August 1, 2020).
Thank You for Joining Us!
Have you been sewing along? Get inspired and share with #bloomtopia on Instagram. We hope to see you back here on the blog on Saturday, August 1 to announce the winner and to see the results of our Make-a-Wish fundraiser and quilt auctions!
Check out our Bloom-Topia Stitch Along for cross stitch!
Until then, Happy Quilting!
Stay connected to FQS!