With so many types of quilting fabrics available, choosing the right one can be overwhelming. It's important to understand their differences so you can choose the best one for your next project. Keep reading to learn everything you need to know about quilting fabrics.
Types of Quilt Fabric
Although standard quilting cotton fabric is our hands-down favorite for making quilts, there is a wide variety of fabrics available for sewing quilts, home decor and garments, such as batiks, wovens and flannel. Some are made from natural fibers like cotton and linen, while others are man-made. The base fiber affects how a fabric will handle and the type of care it requires. Also, whether it's woven or knit plays into a fabric's qualities.
Here's a look at some of the most popular quilting fabrics you can find at Fat Quarter Shop.
Quilting Cotton
Quilting cotton is the ideal choice for any quilter looking to make a fantastic quilt! It's made from 100% cotton and has a plain weave, making it a stable fabric that's easy to work with. It comes in so many colors and designs that the most difficult part about this fabric might just be choosing your favorites from so many amazing options. Quilting cottons come in yardage and pre-cuts of all types, so they're very versatile.
High-quality quilting cottons are our first choice for making quilts
Available in a wide range of colors and prints
Good for beginner crafters
Popular in our beginner quilt kit featuring Bella Solids by Moda Fabrics
Batik
Batiks add a natural element to quilts with their organic patterns in a range of colors. Batik fabric is created using a wax-resist dyeing process where the fabric is drawn on with wax, then dipped into dye. Depending on the desired pattern, the process can be repeated multiple times for more intricate designs.
Batik fabric is generally more tightly woven than quilting cotton, resulting in a slightly stiffer fabric that tends to resist fraying. Batiks are said to shrink less than quilting cotton since they've been wetted and dried in the dying process.
Batik fabric is 100% cotton and comes in a wide variety of colors and patterns, making it an excellent choice for creating unique and colorful quilts.
Woven
Woven cotton fabrics (often called wovens) can add a beautiful textural element to your quilts. The fabric is yarn-dyed rather than printed, so the fabric is identical front to back. Woven cotton is lighter weight than quilting cotton fabric, making it ideal for a variety of uses such as clothing, home décor items, and accessories. The woven cotton has a lower thread count resulting in a looser weave, which makes it fray more easily. Treating it with liquid starch can help with this.
Lightweight with a nice drape
Reversible – looks the same on both sides
Nice for making lightweight quilts, curtains and napkins
Flannel
Flannel fabric is perfect for keeping you warm on chilly evenings. That's why we pull out the flannel pajamas, sheets, and flannel quilts when the temperature drops. Flannel is made from 100% cotton in a thick, lofty weave known for its softness and warmth. It can shrink considerably, so you may want to pre-wash it.
Linen
Linen fabric has long been used in summer clothing because of its durability, breathability and drape. It's made with the fibers of the Flax plant. As the sole fiber or blended with cotton, it can lend texture and interest to your quilt or sewing project.
When blended with cotton it can be for quilting and sewing projects in much the same way you would use quilting cotton. Its combination of luxury and durability makes it a great choice for bags and purses.
Strong and lightweight
Used for bags, summer clothes, curtains and quilts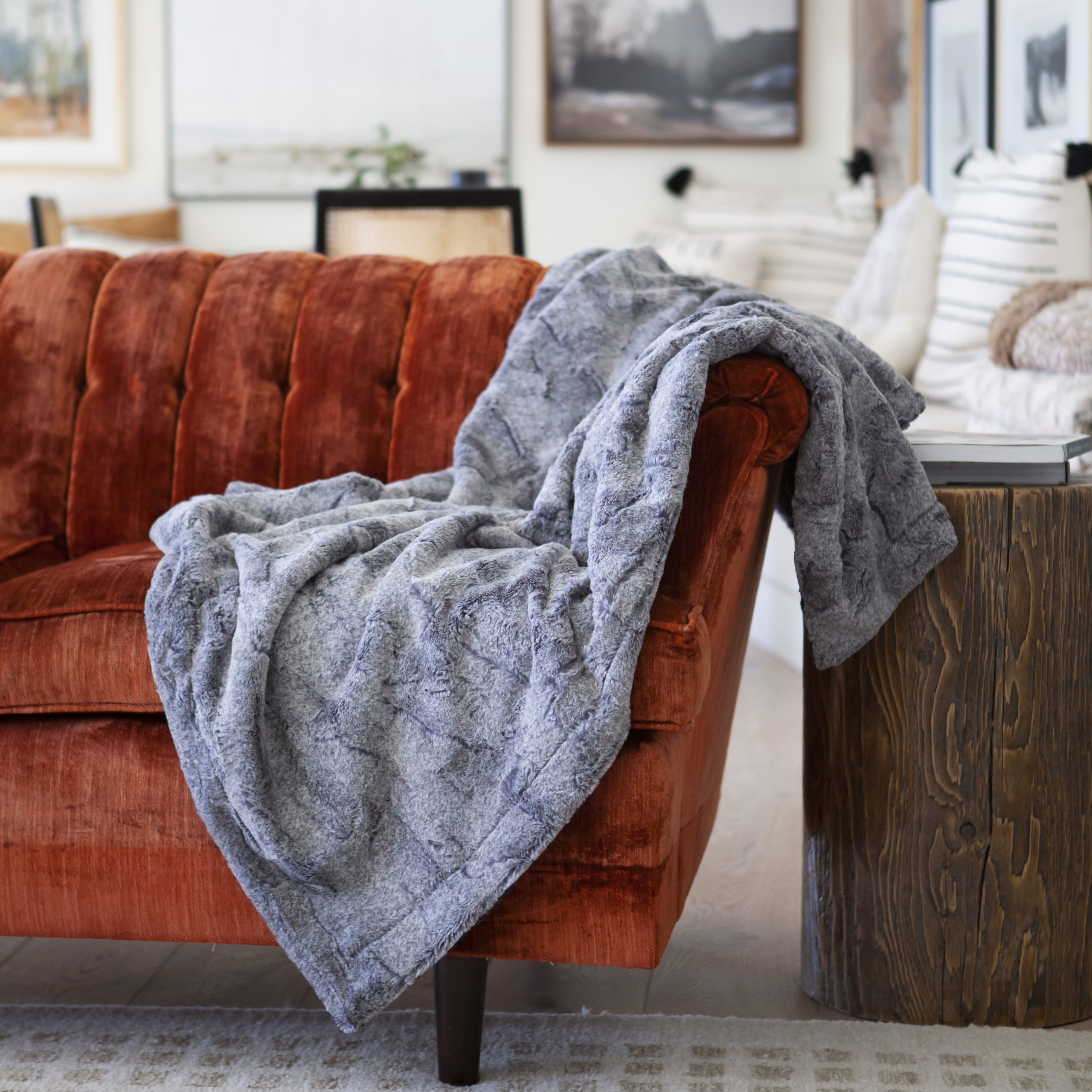 Minky
Cuddle® and Minky fabrics are ultra soft and warm. They're perfect for creating baby blankets, cozy robes and scarves, toys, and quilt backings. They also make a nice cuddly pillow backing!
Minky fabric is a polyester knit, so it has some stretch. You may want to use a special needle that's made for knits on your sewing machine. We have a collection of video tutorials showing how easy it is to make blankets and quilts with Cuddle® fabrics by Shannon.
Rayon
Rayon is a lightweight fabric with a silky feel that lends itself to lightweight garments like tops, dresses and scarves. Rayon is not considered as durable as other fabrics, but it is an excellent alternative to silk due to its low cost and easy maintenance.
Every season, quilt manufacturers release a few rayon prints to complement certain collections. (Twinning with your favorite quilt? Yes, please!) Rayon fabric is perfect for garment sewing, and can even be used to make a lightweight quilt for hotter climates.
Canvas
Canvas fabric is the thickest fabric on this list, with durability and wear resistance, making it the perfect choice for sewing bags, jackets and upholstery! Canvas fabric comes in many styles and designs, so you can find something that fits your style.
Muslin
Muslin fabric is a lightweight, plain weave, 100% cotton quality fabric. It is usually undyed and can come in various colors and designs, making it perfect for backing quilts or pairing with other fabrics.
Note on Pre-Washing Fabric
Do you need to pre-wash your fabrics? It's up to you. An experienced quilter may skip the pre-wash, since shrinkage is rather small, and we like the crinkled look anyway. But if you're making bags or garments, or are sensitive to inks and fabric sizing, then a spin and dry is recommended. If you combine two or more types of fabrics in a project, you may want to pre-wash the fabrics to control for shrinkage, since they shrink at different rates.
Quilt Fabric Giveaway
And now for a giveaway! Here's your chance to win some of the fabrics shown in this blog post! To enter, leave a comment below telling us which fabric type(s) you use the most!
Update 2/17/2023: Congratulations to Cindy Adams our giveaway winner! Please check your email!
Leave a comment on THIS post to enter
The giveaway ends on February 16, 2023, at 11:59 CST
One winner will be chosen at random on February 17, 2023
Open to all – both US and international
We will notify the winner by email and update this post
Share with FQS
You can view different fabric at Fat Quarter Shop and choosing to view by "Types & Themes."
If you pick up some fabrics from above or want to show us what you've made with your favorite fabrics, be sure to share with us on Facebook and Instagram by tagging @fatquartershop.
Do you have a favorite fabric to work with or a new one you're planning to sew with? Let us know in the comments below.
Stay connected to Fat Quarter Shop!