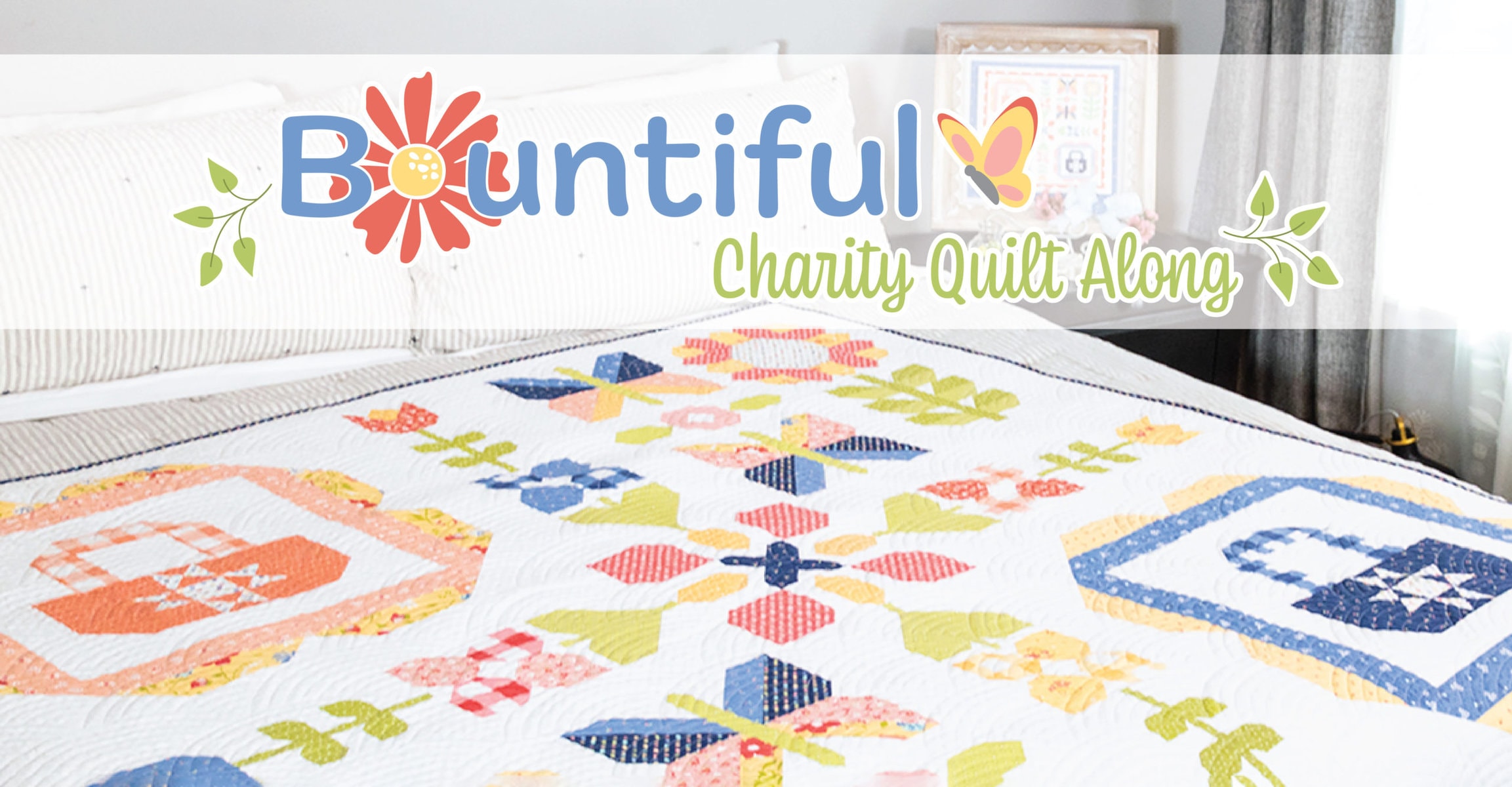 We are all aflutter it's time to present the 2023 Bountiful Quilt and Stitch Along! Join us in making this bright sampler quilt overflowing with Spring's bounty and designed by Corey Yoder, featuring her fabric collection Sunwashed, for Moda Fabrics! We hope you'll sew along with us.

Our Bountiful Quilt and Cross Stitch Pattern benefit Make-a-Wish Central & South Texas.

As we embark on our 10th Annual Charity Quilt, we continue to be amazed by the generosity of this sewing community and inspired by the stories of the children who have been granted life-changing Wishes. The fundraiser works by offering the Bountiful patterns as FREE downloads during the event for a suggested donation of $10 each to our Make-A-Wish Central & South Texas campaign. Or feel free to make a larger, one-time donation of $50. No amount is too small, and every bit counts. From February to September, we will publish a new pattern here on the blog on the first Friday of each month.
If you want to make a quilt just like this one, you'll want to pick up the Bountiful Quilt Kit and Bountiful Specialty Pieced Backing Set, available only at Fat Quarter Shop.
Our exclusive quilt kit includes 11 yards of Sunwashed fabric designed by Corey Yoder for Moda Fabrics. This includes all fabric to complete the quilt blocks along with background, borders, and binding for the Bountiful quilt.
A bonus of purchasing this quilt kit is that you will have all the block and finishing patterns before they are released online. The Bountiful printed pattern set will only be available early as part of this kit.
Our exclusive Bountiful Specialty Pieced Backing Set includes 6.87 yards of Sunwashed fabric and the pieced backing pattern.
If you're planning on sewing with something different, download the fabric requirements once they're available to make this year's charity quilt. We will share the fabric requirements and cross stitch supply list when we reach our first fundraising milestone of $20,000.
Bonus Finishing Patterns for Bountiful
For each milestone goal we hit with our fundraiser, we will release extra finishing patterns you can use with the blocks. At $40,000, $60,000, $80,000, and $100,000 we will celebrate with a new free pattern release!
BONUS SETTING 1 – Pillow Fight Pillow
BONUS SETTING 2 – Wildflower Tablerunner
BONUS SETTING 3 – To be unlocked when we reach $80,000
BONUS SETTING 4 – To be unlocked when we reach $100,000
Block Patterns and Video Tutorials
Sew Along with Us
Follow us on Facebook and Instagram for updates, or join Kimberly's Stitch Squad Facebook Group, a supportive group of quilters and stitchers. Get inspired and share with #BountifulQAL on Instagram.
A companion cross stitch design is back again this year as part of the Bountiful Stitch Along.
Don't forget – you can find all the patterns and videos for the event right here on this Bountiful Quilt Along page, so bookmark it for quick reference. We hope to see you back here in the spring for the kickoff of our 2023 Bountiful Charity Quilt Along!
Until then, Happy Quilting!
Stay connected to Fat Quarter Shop!