All sewists know there's something truly special about creating, and gifting, a handmade sewing project! Not only is it more personal and thoughtful, but oftentimes these made-with-love gifts will be cherished as a keepsake by the recipient for years and years to come. But how can you elevate your next sewing project to make your gift extra special? Our friends at Shannon Fabrics, known for their super soft and luxurious Cuddle® and Luxe Cuddle® minky plush fabrics, have put together a list of sewing projects that make great gifts for a wide range of occasions. Read on to learn more, and find a special limited-time coupon for these fabrics!
Many of these projects use free patterns created by Shannon Fabrics, and when paired with their step-by-step video sewing tutorials, making these "gifts" is as easy as can be.
From classics like throw blankets and scarves to stuffies and wine totes, here are six must-make sewing gifts for Cuddle® minky plush fabric curated by Shannon Fabrics.
6 Must-Make Sewing Gift Ideas for Cuddle® Minky Plush Fabric
Throw Blanket
Perhaps the most popular Cuddle® project on this list, a throw blanket makes the perfect gift for all ages!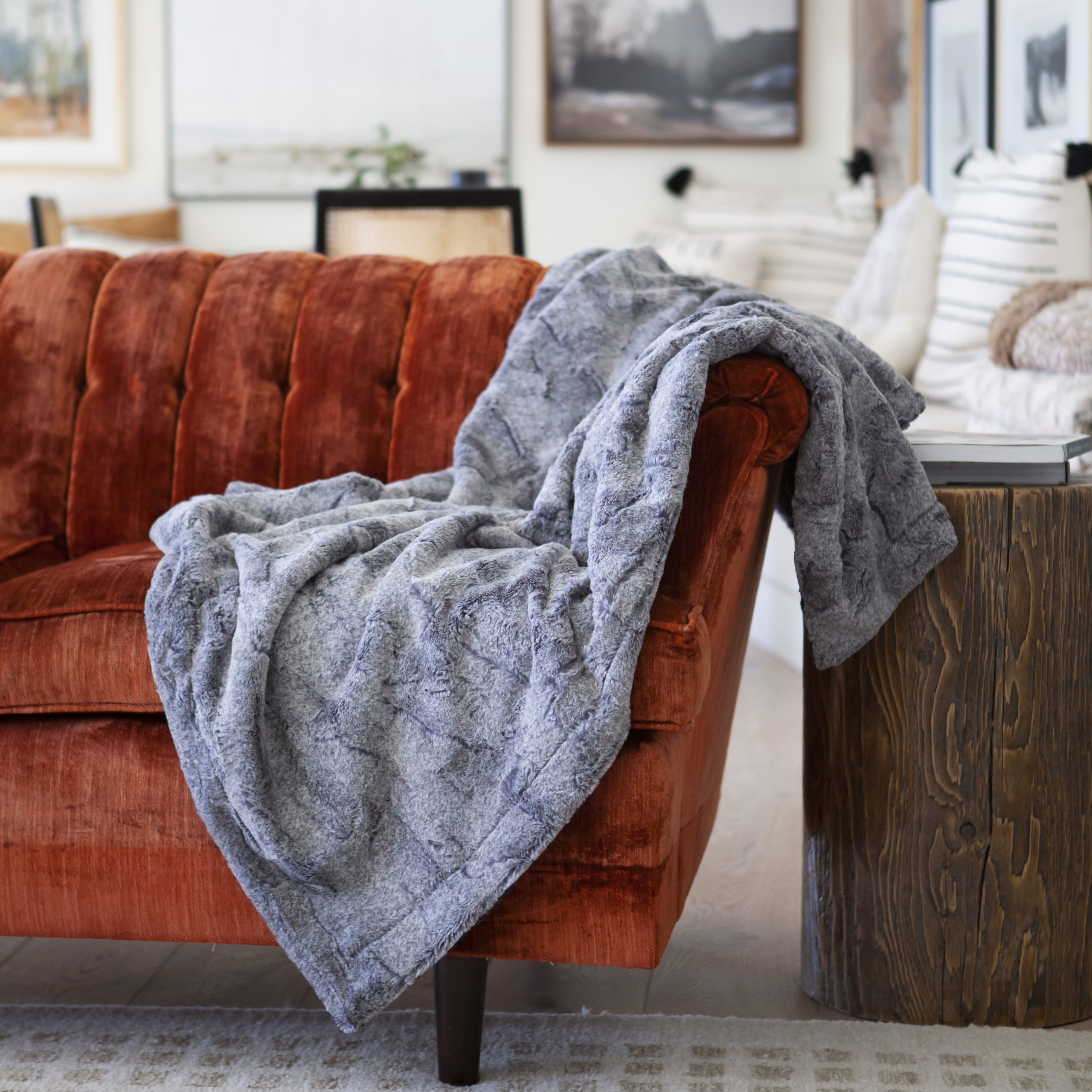 A simple, yet luxurious, throw isn't just for snuggling up and watching a movie or reading a book with a cup of tea. It's also a functional accent piece that brings beauty and warmth to your home.
Shannon Fabrics offers a free downloadable "Luxe Throw" pattern that finishes approximately 58" by 70", and can be customized with your favorite Cuddle® and Luxe Cuddle® fabrics to match any decor or color palette.
Learn how to make a Luxe Cuddle® Throw, including a step-by-step video tutorial and link to the downloadable pattern.
Infinity Scarf
A Luxe Cuddle® minky fabric infinity scarf is arguably the simplest and easiest-to-make sewing project out there — perfect for those new to working with minky fabric or sewing veterans who want a quick and easy scrap buster (makes a great gift, too!).
One yard of Luxe Cuddle® yields approximately three 9" by 17" scarves, but the pattern can be scaled up or down depending on the size you need, or if you're making a scarf for a little one.
Download the free infinity scarf pattern and watch the tutorial!
Pillowcase
Keeping (or gifting) a variety of Cuddle® pillowcases in the closet is a convenient way to switch things up as seasons, or moods, change!
This eight-step minky fabric pillowcase pattern makes sewing a breeze, and the dimensions can be adjusted to fit any size pillow.
Feel free to get creative here — this pattern works great not just for basic minky solids, but embossed minky fabrics as well.
Visit the Shannon Fabrics blog to learn to sew a Cuddle® minky fabric pillowcase and to download the free pillowcase pattern.
Self-Binding Blanket
With over 230,000 views and counting on YouTube, this self-binding blanket by Shannon Fabrics is a must-make for all sewists — regardless of experience or expertise!
The approximate finished size of the blanket is around 36" by 36" (but can be resized to fit your needs), and is great for babies to use for tummy time. We suggest using solid Luxe Cuddle® for the backing and binding, and a fun coordinating print for the front!
Watch a self-binding blanket video tutorial and download the free Shannon Fabrics self-binding blanket and lovies pattern.
Stuffies
Stuffed animals, plush toys and softies have always been a favorite project for sewists and quilters. It makes sense — who can resist these cute and lovable friends, especially when made in Cuddle® and Luxe Cuddle® minky fabrics?
Since Cuddle® and Luxe Cuddle® are available in several hundred different styles, prints and colors, the combinations are endless when it comes to creating a stuffie.
As with any sewing project, stuffies can vary widely in complexity. Shannon Fabrics recommends starting simple with this elephant stuffed animal tutorial, dog stuffed animal tutorial, horse stuffed animal tutorial or even a Kimberbear tutorial!
Wine Tote
Have a pile of scrap Cuddle® or Luxe Cuddle® laying around? A wine tote is a fun way to use pieces of fabric leftover from other projects, while also adding a personal, handmade touch when gifting a bottle of your favorite red or white.
Like all the projects on this list, mix or match colors and prints to match the occasion, no matter if it's a birthday, holiday party or the Fourth of July!
Learn how to make a wine tote bag with Cuddle®, and download the free wine tote sewing pattern.
Save 20% off all Shannon Fabrics
To get you started with these fun sewing projects we have a special offer for you! Use coupon code CUDDLE20 to save 20% OFF all Shannon Cuddle® yardage and kits.
The coupon is not combinable with other offers. Excludes sale items, pre-orders, and clubs. Other exclusions may apply. Can not be retroactively applied to previous orders. Expires Sunday, July 3, 2022, at 11:59 PM CST. Shop Cuddle® fabrics and save!
Looking for more?
Shannon Fabrics offers a wide range of free patterns created specifically for Cuddle® and Luxe Cuddle®.
These free patterns not only include step-by-step instructions, but they also outline fabric and notions requirements and include images of the finished projects to make your next project as straightforward as possible. They've organized them into eight different categories — from accessories to wearables — to help you find exactly the right pattern, or gift, you have in mind.
Simply download and print, and since they're free, there's no limit to how many you choose!
Also, be sure to tune in to Sew Together Tuesday, a weekly video series presented exclusively by Shannon Fabrics, to help sewists and quilters learn how to create a variety of projects using Cuddle® and Luxe Cuddle® fabrics!
Each week, host and Shannon Fabrics National Educator Teresa Coates shares how to make a giftable project from start to finish, teaching skills and recommending notions that help make sewing with minky fabric both easy and fun.
Lastly, if you're short on time to make a gift and want something a bit more convenient to put together, be sure to check out Fat Quarter Shop's selection of Shannon Fabrics Cuddle® Kits — ranging from Cuddle® playmats, to beginner boxes and quilts.
Happy sewing!
Stay connected to Fat Quarter Shop!