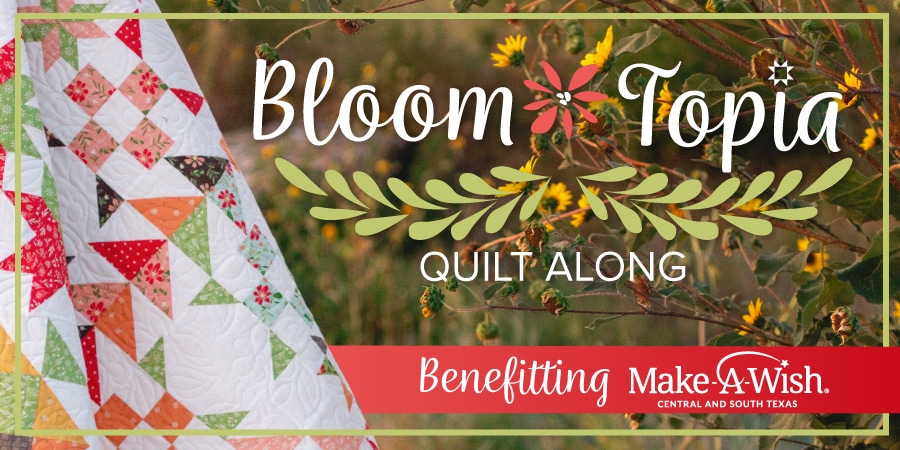 We're back for the final post in the Bloom-Topia Quilt Along! This week, we're celebrating our amazing success this year – all thanks to you! This year's charity quilt was a lot of fun to sew and share with others, and the motivation for making it (raising money for Make-a-Wish) made this lovely quilt all the more so.
Bloom-Topia Quilt Auction
First off, we're thrilled with the success of the quilt auction on July 25 which raised $2,875! Pat Sloan and Sherri McConnell generously donated their quilts for auction, and 100% of those proceeds have been added to the donation!
Funds Raised for Charity
During the Bloom-Topia Charity Quilt Along and Stitch Along we gave each monthly block pattern away for free while asking for a suggested donation of $5 per quilt pattern or $15 for whole cross stitch pattern. We also released five additional bonus settings as fundraising goals were met. Altogether, the generous quilting and cross stitch community donated $57,892.71. That topped our original fundraising goal by almost double!
Moda Fabrics and Fat Quarter Shop together donated $30,000 for a total of $90,892.71 for Make-a-Wish Central & South Texas in their work granting wishes to children with critical illnesses. We anticipate granting wishes to nine children. Thank you, everyone!!

Wishes give hope and strength to children will critical illnesses and their families. In the past few years, many children in Central Texas have received wishes thanks to the generosity of our quilting and cross stitch community. Avery is a Make-A-Wish recipient who got to enjoy her Wish thanks to last year's Threadology Charity Quilt Along! Read the article and watch the newscast to see more about how you are helping heal children in need. Please click here to view the video.
Bloom-Topia Bonus Finishing Patterns
As a special thank you, we released bonus finishing patterns each time we met a fundraising goal. These bonus patterns incorporate blocks from the quilt (except for the bird) and are free for you to use.
Thank you for joining us!
We are already preparing for the 2021 Charity Quilt Along, and we can't wait to share it with you in January. Follow us on Facebook, and Instagram for updates, or join Kimberly's Stitch Squad Facebook Group, a supportive group of quilters and stitchers.
Get inspired and share Bloom-Topia quilts with #bloomtopia on Instagram. You can find all the patterns and videos for the Bloom-Topia Quilt Along on our Bloom-Topia Quilt Along page!
We hope to see you back here on the blog in January for the kickoff of our 2021 Charity Quilt Along.
Until then, Happy Quilting!
Stay connected to FQS!