Are you looking to get creative with your fabric stash this September? I'm sharing my favorite FREE scrap quilt patterns for Scrappy September this year. Using fabric scraps cuts down on waste, saves money and amps up creativity with different color combinations and designs. Read on to see the ones I love most!

My Favorite Scrap Quilt Patterns
When looking for the perfect pattern for my leftover fabrics, I usually want a quilt that calls for almost entirely small pieces in the fabric requirements or cutting guide. Some advice for you, consider the size of your scrap stash and the scrap pieces themselves, then choose a quilt pattern accordingly.
From classic quilt blocks to modern designs, these scrap quilt patterns will inspire and whittle down those overflowing scrap bins.
Petit Four by Fat Quarter Shop
If you're looking for something both fun and NEW for your project, the Petit Four Quilt Along is the perfect choice! Joining the quilt-along will give you the opportunity to connect with other quilters and keep you accountable throughout Scrappy September.
From October 2023 through April 2024, we'll be sewing our way through this foundation-paper pieced quilt. We'll have more details in the Petit Four Quilt Along blog post coming September 7. Until then, you can gather your scraps, the 4″ Foundation Paper Pad Set, and my Foundation Paper Piecing Starter Kit, so you'll have everything you need to sew along!
Rail Fence Quilt by Fat Quarter Shop
The classic Rail Fence is where 2.5″ fabric strips rule the day. Quilters of any skill can find their dream quilt size with this free, downloadable layout guide. And if you love piecing patchwork quilts, the Rail Fence Quilt Pattern will surely become your go-to.
Rail Fence quilts can appear traditional or modern depending on fabric choices, and you really can't go wrong here. Learn how to make your own in our Free Rail Fence Quilt Pattern blog post!
Log Cabin Quilt by Fat Quarter Shop
Log Cabin quilts have been a favorite among quilters for generations. The beauty of this design lies in its simplicity and versatility. Using fabric strips in different colors and widths, you can create stunning 4″, 6″, or 12″ Log Cabin quilt blocks that showcase your scrap stash beautifully.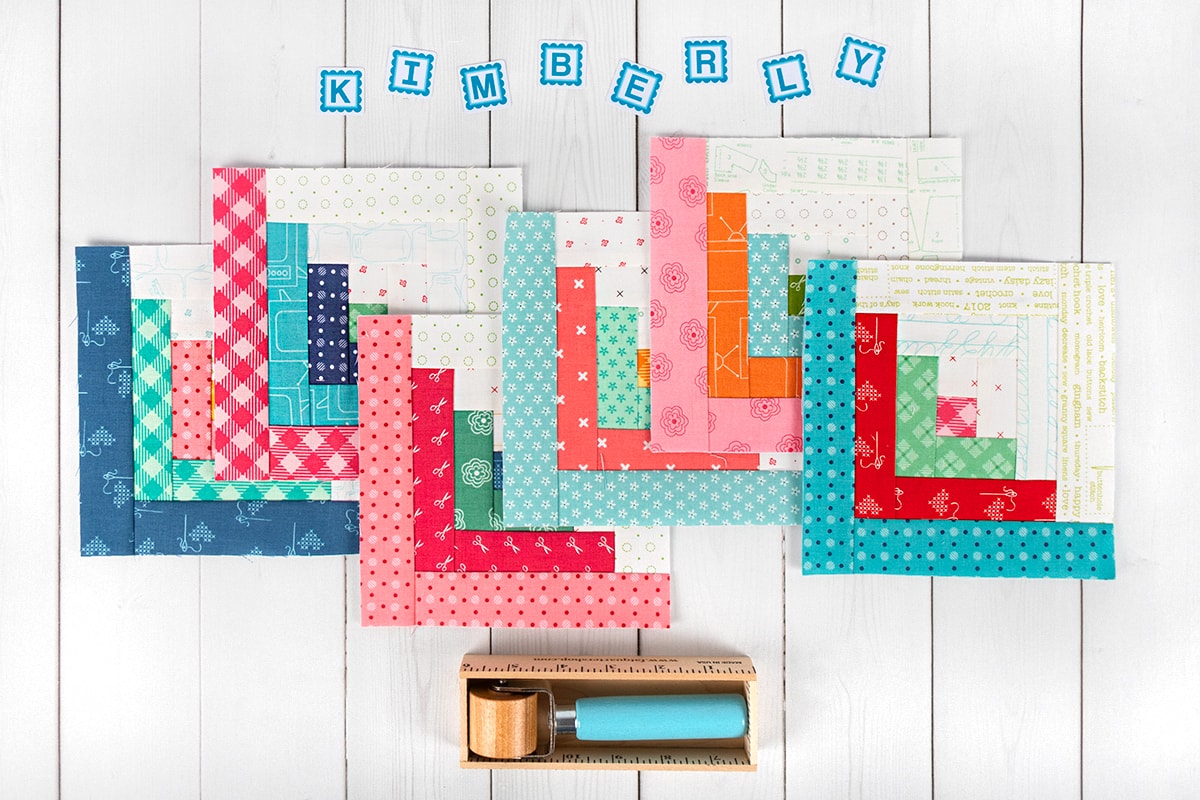 If you plan to make a Log Cabin quilt, consider using our Log Cabin Quilt Size Pattern Guide. With its timeless appeal and endless design possibilities, the Log Cabin quilt is the perfect choice to turn scrap fabrics into stunning and meaningful quilts.
Star Streams by Fat Quarter Shop
The FREE Star Streams Scrap Quilt Pattern is a great way to use leftover fabrics from your quilt projects to make a new quilt! Have you heard about the Star Streams Scrap Quilt Pattern? It's a beautiful and mesmerizing design that will make your scraps shine!
The pattern is written for classic piecing, but you can use foundation paper for improved accuracy. If you don't have any of these papers, you can get them from Fat Quarter Shop! You can read all the Star Streams Quilt details in My 2023 Scrap Challenge blog post.
The Brick House Scrap Quilts by Fat Quarter Shop
Three quilts for the price of one, except they're all free! I love the many options with the Brick House, Big Brick House, and Bitty Brick House 2022 Scrap Quilt Patterns.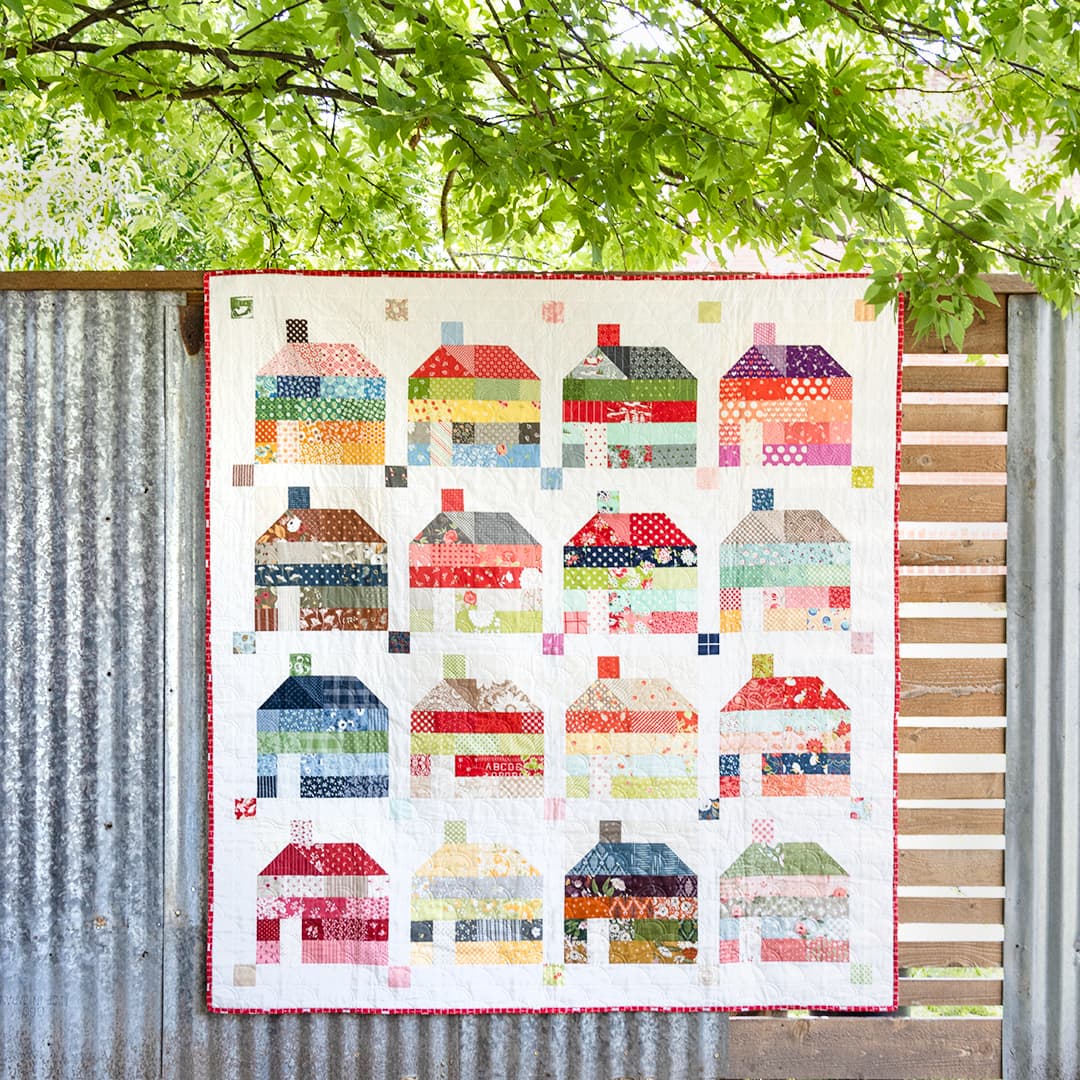 If you've been following along for the last couple of years, you know how much I love the Brick House Scrap Quilt and that I have put it into my permanent rotation for using my scraps and fabric cap sets. You won't regret choosing one of these as your next stash buster!
BONUS: Scrappy Strings from Scrappiness is Happiness by Lori Holt
If you love scrappy quilts, you can also check out Scrappiness is Happiness by Lori Holt for even more scrappy fun. Scrappy Strings is just one of the many incredible designs made for using up your scrap pile in Scrappiness is Happiness! It's another one of my favorite scrappy quilt designs!
This year I've taken scraps from various fabric collections to make the Scrappy Strings Quilt from Scrappiness is Happiness.
Gift Certificate Giveaway!
Now that you have a great selection of patterns to choose from, I would love to know which pattern you'll be sewing your scraps up with! I'll be checking on your progress throughout September as you post on Instagram with #FQSScrappySeptember. You can post your scrap stash, your quilt progress and your finished projects.
If you post between September 1 and September 30 using #FQSScrappySeptember you'll be entered to win one of three $25 Fat Quarter Shop Gift Certificates. You can enter as many times as you like throughout the month sewing with any pattern or stash-busting technique. I will announce the three winners on Instagram on October 2.
Share with Us!
We are sew excited to see what you make from your fabric stash this September! Share your scrappy creations with us on Facebook and Instagram, and tag @fatquartershop so we can see and share your work.
What are your favorite tricks to working with or organizing your fabric scraps? Don't forget to leave a comment below telling us.
Happy Quilting!
Stay connected to Fat Quarter Shop!