Join us for the most colorful quilt and stitch along of the year inspired by Lori Holt's newest book, Kaleidoscope! The Kaleidoscope Sew Along encourages you to go outside your color comfort box and discover new palettes to play with. With this Bed Runner, exclusively designed by Lori Holt for this Sew Along, and the Stitch Along for the cross stitch included in the book, it is double the stitchy fun!
Snip, stitch and quilt along with us during Lori Holt's latest sew along, Kaleidoscope. From July 28 to August 25, we will be stitching and quilting two projects from the Kaleidoscope book.
To join the Kaleidoscope Bed Runner Sew Along, you'll need a copy of the Kaleidoscope Book, the Bed Runner FREE PDF Pattern, and your supplies. On Friday, July 23, Kimberly Jolly joined Lori Holt to share the details of the event from Lori's home studio.
About the Bed Runner
To get started, download a copy of the Kaleidoscope Bed Runner FREE PDF Pattern for your fabric requirements and sewing guide. Don't forget – you'll need the Kaleidoscope Book for full instructions.
You can pick up the Kaleidoscope Bed Runner Sew Along Kit and Backing set to make one like ours. Kimberly's version is made with Bee Cross Stitch, and Lori will be making hers with her upcoming collection Stitch.
As a special bonus, Lori Holt and Kimberly Jolly will share free tutorial videos for making the Kaleidoscope blocks using both traditional piecing and foundation paper using Half Square Triangle Paper and Flying Geese Foundation Paper Pads by It's Sew Emma. So if you would like to use the papers, you'll need one each of the following:
Hop over to our website for all the Kaleidoscope supplies.
Sew Along Dates
Each week for 4 weeks, we'll be sewing part of the Kaleidoscope Bed Runner.
| | |
| --- | --- |
| Week | Date |
| Sew Big Blocks (Lori's tutorial) | July 30 |
| Sew Small Blocks (Kimberly's tutorial) | August 6 |
| Finish sewing the blocks | August 13 |
| Bed Runner finishing | August 20 |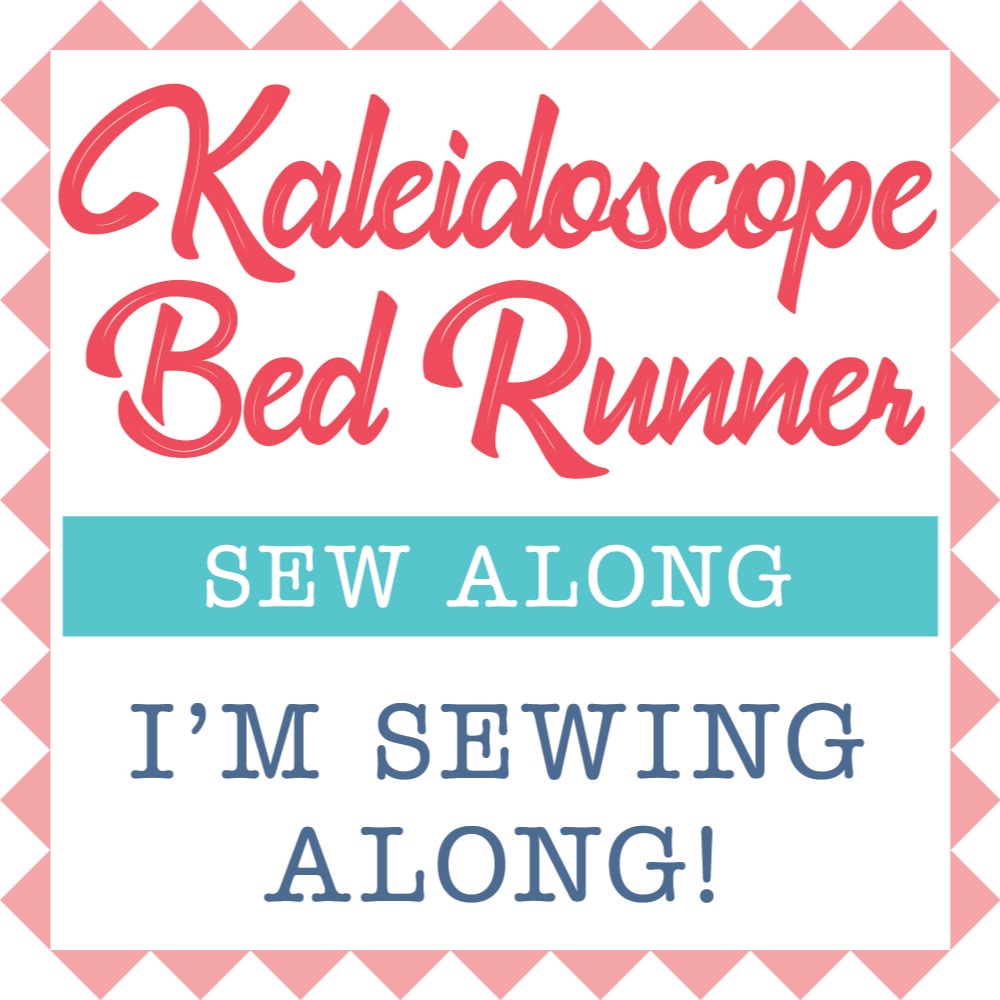 The Kaleidoscope cross stitch pattern is a study in color value and hue. Whether warm hues, cool hues, or a mix of both, the choice is up to you!
The book contains six distinct colorways in a range of moods that pull from the Lori Holt Kaleidoscope DMC Thread Pack. This starter pack is a jumping off point for the piece. Please note: you will need two additional skeins of DMC to complete the pattern if you go with three colors of floss.
You can find the floss and cloth for Kaleidoscope cross stitch on our sew along supplies page.
Don't forget to pick up your Kaleidoscope Book!
You can use whatever fabrics and supplies you prefer, but you'll need the Kaleidoscope book for the full pattern.
Stitch Along Schedule
Each week for 4 weeks, we'll be stitching part of the pattern and showing our progress on the dates listed below.
| | |
| --- | --- |
| Week | FlossTube Date |
| 1 – Upper Left | August 4 |
| 2 – Upper Right | August 11 |
| 3 – Lower Left | August 18 |
| 4 – Lower Right | August 25 |
Who's Sewing Along?
We have some talented friends joining us on our Kaleidoscope sew along. Take a look below to see who's sewing along with us and give them a follow!
Meet the Quilters
Meet the Stitchers
Are you sewing with us?
Share with #KaleidoscopeSAL
You can share the badges above to show you're participating. EVERYONE can sew along! Keep up with us by following the hashtag #KaleidoscopeSAL. Share your progress with the hashtag, too, and be sure to tag us so we can see and share your work!
It's time to get ready! Kimberly and Lori will share all the details on Friday, July 25 on her YouTube channel so don't forget to tune in.