Are you ready to kick off the 2023 Stronger Together Quilt and Stitch Along? Tomorrow is the first day of Black History Month, and to celebrate we're sharing two special patterns to fundraise for UNCF. Read on for all the details on this quilt, cross stitch, and fundraiser!
Every quilt tells a story, and this year's Stronger Together quilt tells a history – of exploration, innovation, and remarkable achievements of three intrepid African Americans!
Fat Quarter Shop is sharing the 2023 Stronger Together Quilt Pattern and Stronger Together Cross Stitch Pattern in support of the United Negro College Fund (UNCF), and we encourage you to donate $15 to our UNCF campaign for the use of each of these free patterns! 100% of your donation will go to help underrepresented students earn a college education. Fat Quarter Shop will match up to $7,000 in donations raised now through February 28, 2023!
The mission of UNCF is to increase the total number of African American college students and help them graduate. They do this through awarding scholarships, providing financial support to historically black colleges and universities (HBCUs), and advocating for the importance of minority education and community engagement.
About the Quilt
Michelle Ramsay of Quilts Made with Love designed this year's quilt featuring Speckled and Linear by Rashida Coleman-Hale for Ruby Star Society. The cross stitch design is made to match the quilt, and we have a 2023 Stronger Together DMC Thread Pack that includes the colors of the quilt.
In February, Michelle will be sharing about the quilt each week on her Instagram account @quilts_madewithlove, so join her to follow along and join in for giveaways and other fun! Meet Michelle and learn more about the quilt in the special Q&A video below with Michelle from Friday, January 20.
The design was inspired by three African Americans whose achievements have expanded our knowledge of the land and the sky above. Elements in the quilt represent the work of York, General Charles Young, and Katherine Johnson. The free patterns each include photos and short biographies to highlight each of these notable figures.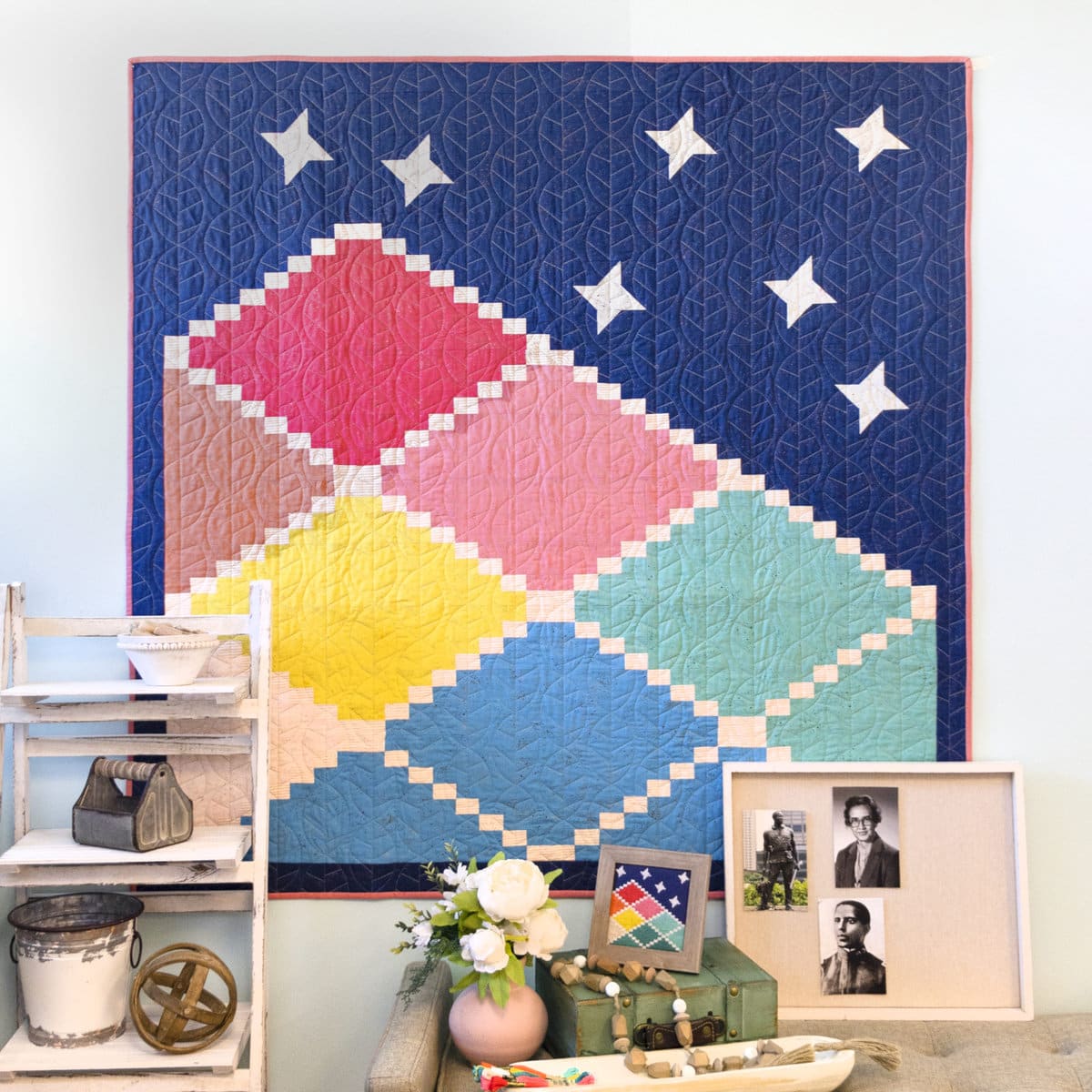 The quilt measures 52.5″ square. Stronger Together Quilt Kits and Stronger Together Backing Sets are available now, or if you want to sew along with other fabrics from your stash, please refer to the pattern as a guide.
Join the Quilt Along!
The Stronger Together Quilt Along and Stitch Along will last for four weeks, from February 1 – 28, 2023. The quilt along will follow the pattern instructions, week by week. Follow Michelle Ramsay on Instagram at @quilts_madewithlove for updates each week.
You can collect all of the Stronger Together patterns and supplies from our Stronger Together Sew Along Page.
About the Cross Stitch
The DMC thread packs are available for sale at Fat Quarter Shop now. The 2023 Stronger Together DMC Thread Pack includes 8 DMC floss colors in a vibrant rainbow.
If you wish to sew along with other floss from your stash, please refer to the pattern as a guide to prepare for the quilt and stitch along. You can collect all of the Stronger Together patterns and supplies from our Stronger Together Sew Along Page.
Stitch Along Schedule
From February 1 – 28, Kimberly will be stitching along and sharing updates each Wednesday at 9 AM CST on our FlossTube channel. You'll want to subscribe, so you don't miss out on any updates!
We recommend stitching two colors each week to stay on track. It's a good idea to start with the white floss to lay in the outlines and stars. That way the rest will be easy to fill in. ⁠⁠We have a suggestion for what order to stitch in, starting from the top, but that's up to you. You're the boss, after all, of your cross stitch!
| | | |
| --- | --- | --- |
| Week | Color Sequence Idea | Flosstube |
| 1 | White and Strawberry | February 1 |
| 2 | Sorbet and Melon | February 8 |
| 3 | Pale Pink and Sunlight | February 15 |
| 4 | Icebox Green and Bright Blue | February 22 |
Who's Stitching Along?
Follow these stitchers for inspiration and tips during the stitch along!
Denise, Black Ribbon Stitch Studio (@BlackRibbonStitchStudio)
Lucy Brennan, Charm About You (@CharmAboutYou)
Colleen and Cheryl, Stitching with the Sisterlies (@stitching_with_the_sisterlies)
Share yours with #FQSStrongerTogether2023
Everyone can join in! Simply visit our fundraising page to make a donation, then gather your supplies. Use the hashtag #FQSStrongerTogether2023 on Instagram to see and share work from your fellow quilters and stitchers.
Stay connected to Fat Quarter Shop!