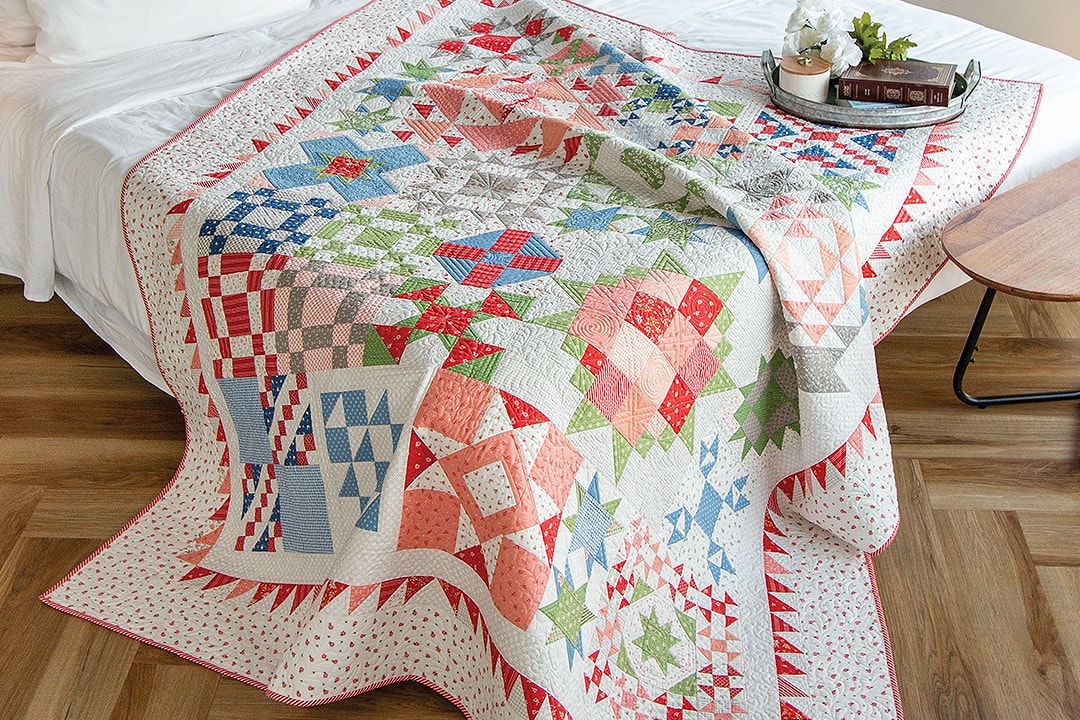 We are excited to share that the new quilting gem, Celebrate with Quilts, by Susan Ache and Lissa Alexander has officially hit the shelves! Inside the pages of this book, you'll discover a treasure trove of twelve stunning quilts and an impressive collection of 60 celebratory sampler quilt blocks, all elegantly scrappy and uniquely crafted.
But the celebration doesn't end with the book! Join us for an exciting quilting journey in the Piece and Quilt Sampler Quilt Along from March 2024 – February 2025. This scrappy and fabulous adventure is the perfect way to honor Susan Ache and Lissa Alexander's latest creation, Celebrate with Quilts.
The Piece and Quilt Sampler Quilt finishes at 72.5"x 91.25", and is an intermediate level quilt. So pick up the Celebrate with Quilts book, download the quilt along packet, grab your favorite starter bundle and foundation paper set, and then get ready to celebrate the art of quilting, one scrappy block at a time.
We will be sewing this scrappy quilt in Shoreline by Camille Roskelley for Moda Fabrics, and there's even a Fabric Kit and Backing Set to make your quilt just like ours. If you're looking to sew in something other than Shoreline, check out Susan's Starter Bundle and Lissa's Starter Bundle, which include selections from the collections below.
Grab your book and tune in to the Fat Quarter Shop YouTube channel on Friday, November 17, for a Trunk Show featuring all the quilts from the book! There will also be some giveaways from Moda Fabrics and Fat Quarter Shop for this quilt along, so stay on the lookout for those!
Join us!
To join the quilt along, post a picture of your blocks on Instagram and use the hashtag #PieceQuiltSamplerQAL, and you're in! Check the hashtag to find more quilters participating, and comment on their pictures to start making new friends. Also, share your progress with this hashtag, and be sure to tag @fatquartershop, so we can see and share your work!
Be sure to also check out the Blueprint Quilt Along hosted by Moda Fabrics with Lissa Alexander (@modalissa) and Susan Ache (@yardgrl60) for a quick and fun quilt-along December 7-10, 2023. With big, easy-to-piece blocks, this quilt gives you a 'blueprint' for " for designing your own scrappy quilt. You'll finish just in time for a last-minute holiday gift or learn how they use the blueprint layout for other quilts such as the heart quilt shown here. Lissa is using the Blueprint for her Blockheads setting also.

Watch for more information over on the Moda blog.
Stay connected to Fat Quarter Shop!