Charm Packs are the most charming precuts you can sew up! These precuts are versatile, fun and easy to sew. We recommend always keeping charm packs on hand in your favorite collections. They look cute in your sewing room and work with a wide variety of patterns!
This week, we've gathered a list of our favorite Charm Pack-friendly patterns to get you sewing with these sweet squares. Let's sew with your stash or pick out a new collection and get started. All of these patterns are downloadable PDF patterns so you can print them at home and get started right away!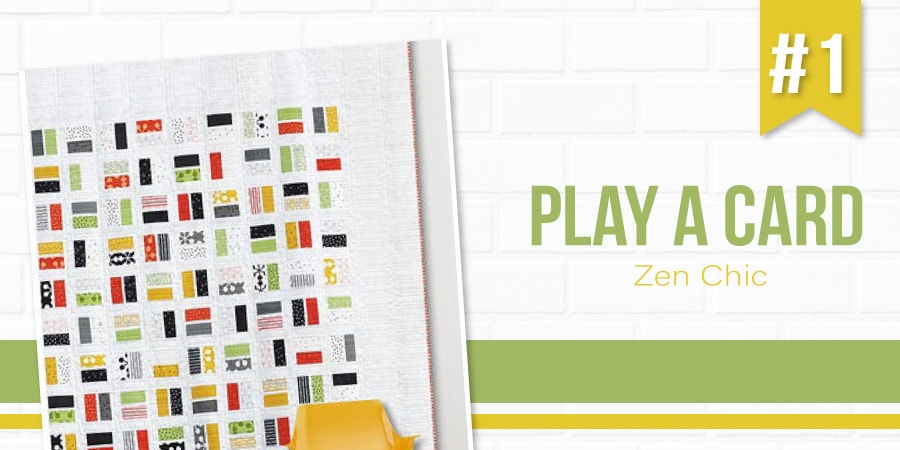 The Play a Card Quilt invites you to get in touch with your playful side. Grab a couple of charm packs in bright colors and whimsical prints to perfectly capture the colorful spirit of this beginner-friendly quilt. This pattern pairs especially well with Quotation by Zen Chic for Moda fabrics. The collection releases this October but you can reserve your charm packs now.
This pattern is practically begging to be sewn! The Pretty Please Quilt features Sawtooth Star quilt blocks bordered in rectangles and squares made from charm packs. The pattern offers two sizes, a 60″ x 60″ Lap quilt and an 84″ x 84″ Queen quilt, making it ideal for beginners and experts alike.
3. Wishing Well by Amy Ellis Quilt Patterns

Wishing Well is the baby quilt pattern you have been wishing for! The quilt measures at 45.5″ x 56″ and calls for two charm packs in addition to background, binding and backing. This pattern is perfect for beginners with easy strip piecing.

The Charm Pack Cherry FREE PDF Pattern was made to make the most of your Charm Packs. You can find all the details for this sweet pattern on our blog featuring the quilt in a variety of colorways as part of our Shortcut Quilt Series. Shortcut Quilts start with precuts so you can get sewing fast!
Check out all of Kimberly's tips and tricks for making this easy quilt pattern even easier! Kimberly filmed a video tutorial for this pattern you won't want to miss.
If you are viewing via email, please click here to watch the video.
5. Barn Star by Piece N Quilt Patterns
Barn Star is a classic star pattern using two charm packs for a 58″ x 58″ quilt. Use coordinating colors for a show-stopping look. This is an intermediate pattern for those all-star quilters who are ready to step up their Charm Pack game.
How to download PDF patterns
We have an easy guide for you! You can download free and paid PDF patterns on our site in two different ways. Free patterns will download immediately  while paid patterns will be sent to your email and are available under "My Account." Our Guide to PDF Patterns can show you how.
Please join us next week on Saturday, September 5, for our next set of patterns. Which precut do you think we will feature next?
Share your quilts with us
We hope you enjoy quilting up these patterns and busting into your stash! We would love to see and share what you make so please share your work using #FatQuarterShop on Facebook and Instagram!
Happy Quilting!
Stay connected to FQS!