Get ready to roll with my TOP TEN jelly roll quilt patterns! I've collected some of my favorite jelly roll-friendly quilt patterns to share with you.
If you're new to quilting, Jelly Rolls are 2.5″ x 42″ strips that also go by Bali Pops, Roll-Ups, Rolie Polies, or Design Rolls (depending on the manufacturer). But no matter what you call them, they're fun to sew with and oh so, pretty.
All these quilts listed below are available in paper and PDF versions, and if you'd like to see the full video of my picks, read on.
1. Trifles Quilt Pattern
The Trifles Quilt Pattern by It's Sew Emma is a beginner-friendly quilt that can be made in four sizes! It's the perfect pattern to highlight your favorite jelly roll and is one of Kimberly's favorites!
2. Patchwork Garden 2 Quilt
This twist by A Quilting Life on her classic Patchwork Garden design is elegant and king-sized. Made in fabrics from Sherri & Chelsi, each block uses one jelly roll strip and background fabric for an intricate-looking finished quilt.
3. Strip Ribbons Quilt
One of the first designers to work with jelly rolls in her patterns, G.E. Designs created the Strip Ribbons Quilt Pattern. We love the combination of cornerstones and strips used to make this modern quilt design.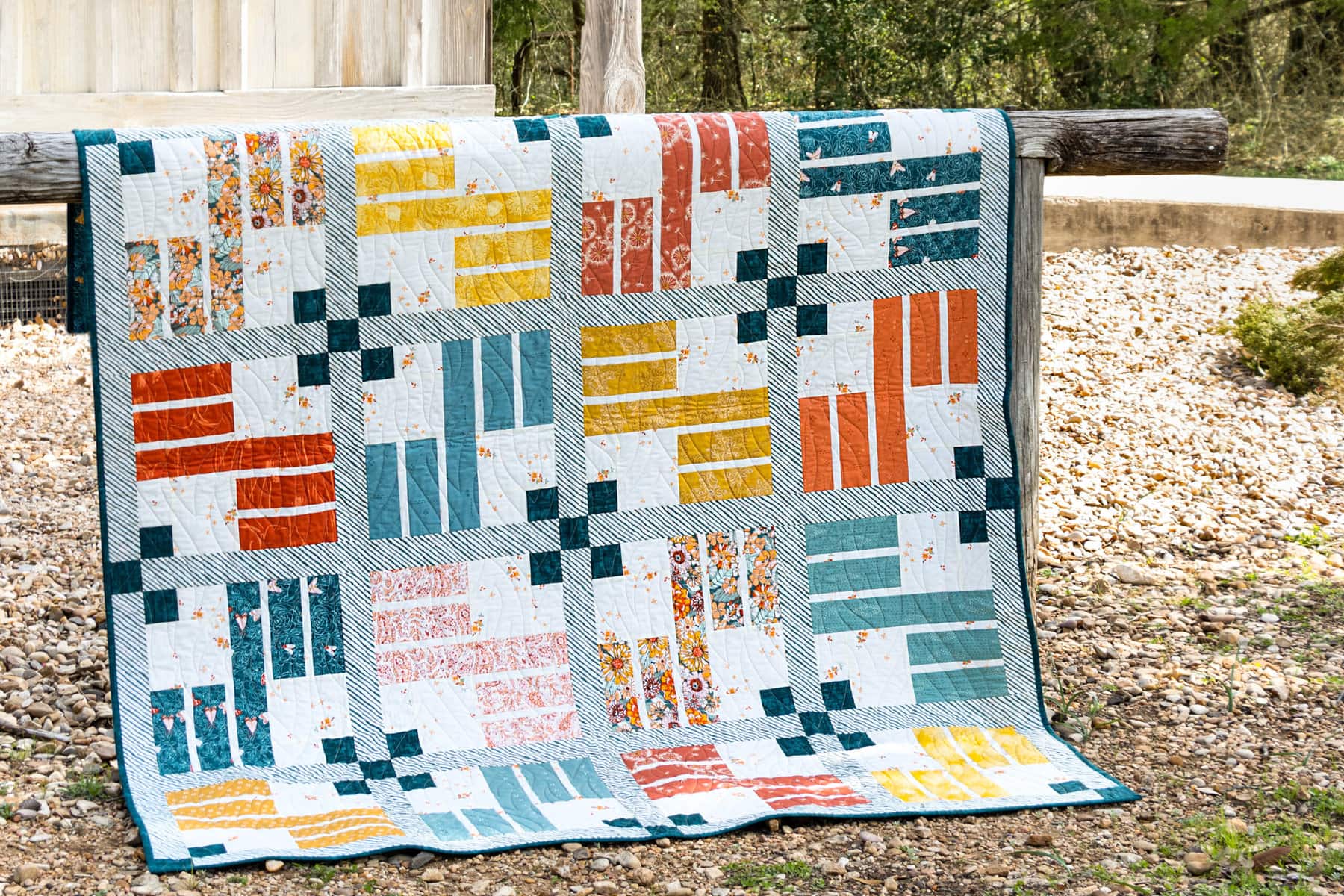 4. Jelly Sticks Quilt
The Jelly Sticks Quilt by Coriander Quilts finishes at 56″ x 68″ and is sweet enough to eat! Made with your favorite jelly roll or in her Buttercup & Slate collection for Moda Fabrics like the one below, this quilt is sure to stick in your mind!
5. Jelly Weave Quilt
Cluck Cluck Sew's Jelly Weave Quilt Pattern comes in five pattern sizes, including crib, throw, twin, queen, and king. This beginner quilt pattern is easy to make and impressive to look at!
6. Hot Cross Buns Quilt
This delightful and quirky quilt is the perfect gift for anyone special in your life. Hot Cross Buns by Lella Boutique finishes at 65.5″ x 77.5″ and looks lovely in every collection!
7. Flirty Quilt Pattern
Flirt with the idea of making this your next quilt project! The Flirty Quilt Pattern by Prairie Grass Patterns features pretty plus symbols and finishes at 54″ x 66″.
8. Jelly and Figs Quilt
This full-size quilt by Fig Tree Quilts is perfect for your next picnic. The Jelly and Figs quilt is intermediate level, but we figure it's worth the effort for such a pretty project!
9. Nesting Quilt
The pretty patches that make up the Nesting Quilt by Thimble Blossoms feature your favorite jelly rolls in a unique design. We love how it looks in her collection Dwell for Moda Fabrics!
10. Watermarks Quilt
Mark this down as your next quilt! Inspired by the trails of water raindrops leave behind on windows, the Watermarks Quilt Pattern by Antler Quilt Design is a lovely precut-friendly version of a classic design.
Top 10 Jelly Roll Quilts Video
Would you like to learn more about these beauties? Check out this video to see my TOP 10 favorite Jelly Roll quilt patterns up close and learn more about them.
I love Jelly Roll quilts because they're easy to get started! (That is, if I can bring yourself to cut into that perfect little Jelly Roll!) If you don't have a Jelly Roll to use, simply cut your fabric scraps into 2.5″ strips, and you'll be on your way.
Share with Us!
We are sew excited to see your jelly roll quilt projects! Share your creations with us on Facebook and Instagram, and tag @fatquartershop so we can see and share your work.
Some people's first time sewing is with a jelly roll. What about you? Don't forget to leave a comment below telling us the first time you used a jelly roll.
Happy Quilting!
Stay connected to Fat Quarter Shop!