Today we're stepping into the world of quilting with flannel fabrics and taking you with us! We're sharing our top five tips for sewing with flannel and a new free shortcut quilt pattern below. Be sure to read to the bottom so you don't miss the video tutorial or an exciting new giveaway!
Top 5 Flannel Quilting Tips
While flannel is different than quilting cotton, it isn't too tricky and beginners can definitely use it. We've gathered a few of our best tips for working with it below.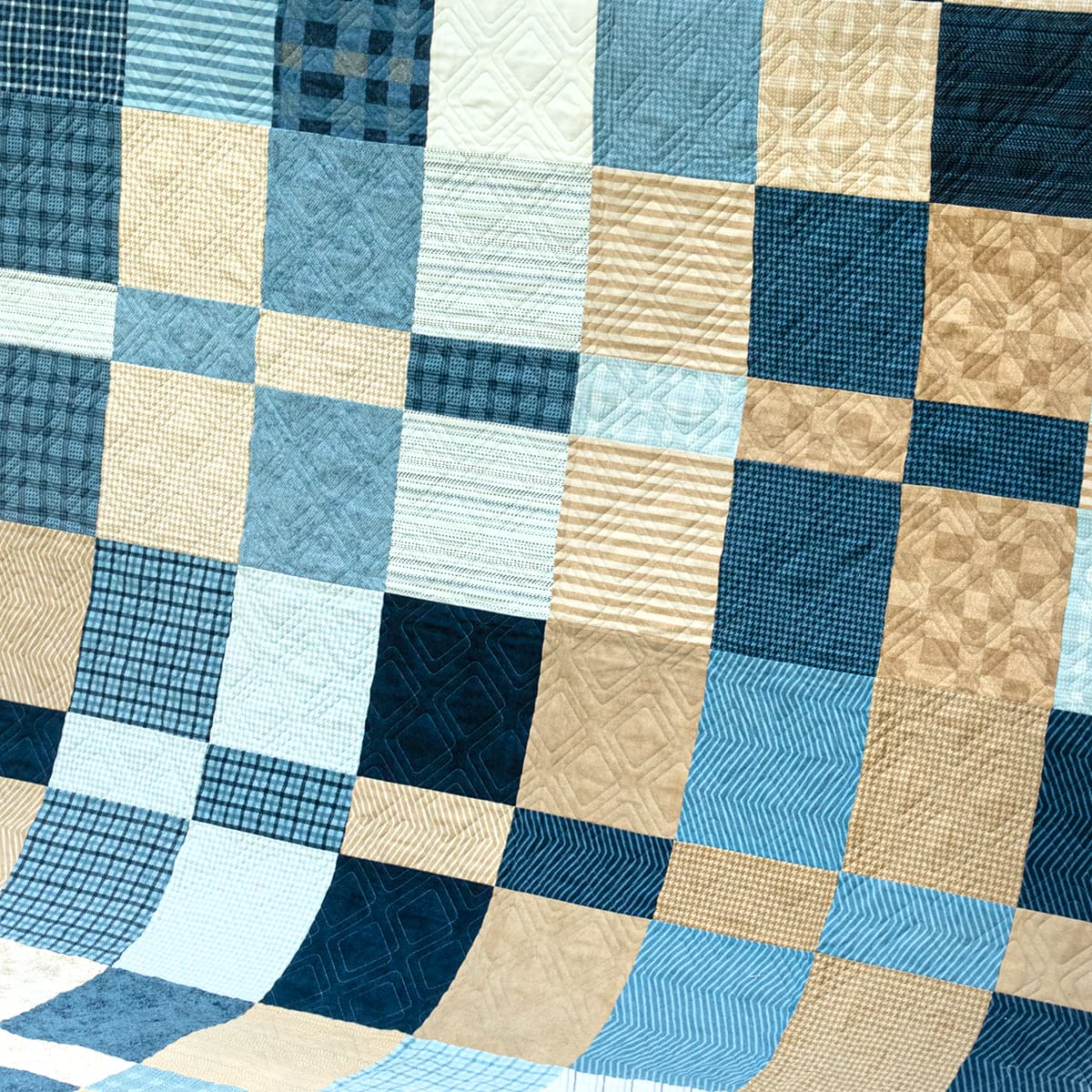 1. Always Pre-wash Flannel
Unlike when working with quilting cotton, we recommend always washing your flannel fabric before use because it can shrink significantly. A good rule of thumb when purchasing flannel for a quilting project is to allow for up to a quarter-yard loss due to shrinkage and fraying when deciding how much to buy.
Note: If you're using a precut fabric, be sure to zigzag stitch or surge the edges to avoid the fabric coming apart in your washing machine. Some patterns will require you not to wash the fabrics ahead of time. Check yours!
2. Use Sharp Scissors or a New Blade
Flannel is softer and thicker than cotton, meaning it needs a sharper blade to cut smoothly. When starting a project with flannel, make sure your scissors are sharp, and if you use a rotary cutter, begin with a fresh blade!
3. Start with a Fresh Needle
To make stitching more manageable, starting with a fresh 80/12 or 90/14 sewing machine needle is a good idea. The reasons for this are similar to the ones for needing sharp tools, you want the needle to glide effortlessly through the thicker fabric.
4. Use a Walking Foot
Most quilters know to reach for their walking foot when working with batting or several layers of fabric because it helps feed the thick layers through your machine together. If the flannel doesn't feed under the needle easily, switching to your walking foot can keep your stitches looking great!
5. Use a Longer Stitch Length
Last but not least, we recommend lengthening to around a 3.0 stitch length. Flannel has a slight stretch to it, and using a longer stitch length will help it hold that stretchiness and look perfectly professional.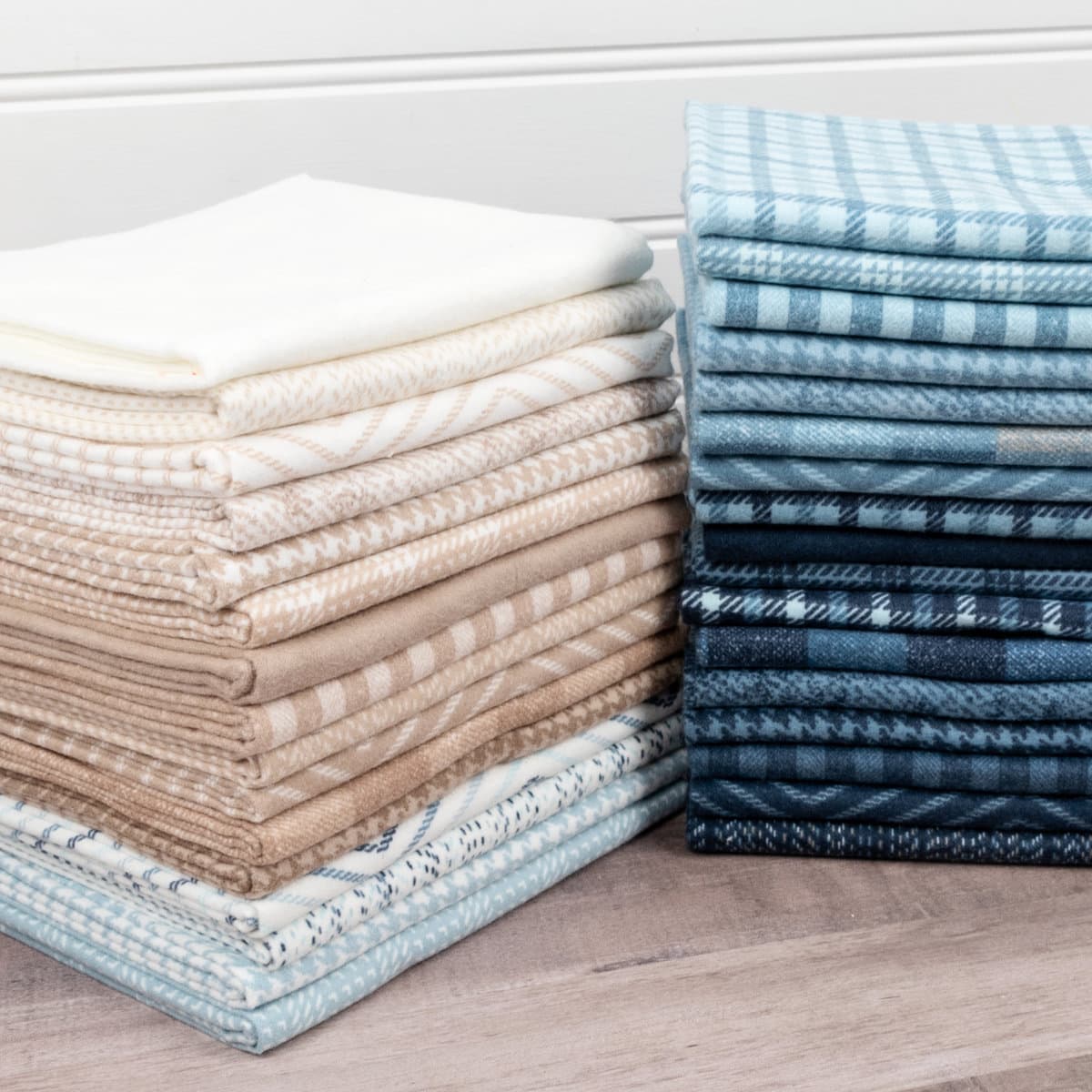 To learn more about the different types of fabric that you can craft and quilt with check out our Quilter's Guide to Fabric!
The Fat Eighth Flip Quilt Pattern
For our Fat Eighth Flip Quilt we used the Lakeside Gatherings Flannel Fat Eighth Bundle by Primitive Gatherings for Moda Fabrics. Flannel fabric is great for keeping you warm on chilly evenings, so it's the perfect choice for an extra cozy quilt!
Our Shortcut Quilt Series is full of precut-friendly quilts with free tutorials. Today we're sharing the newest free quilt pattern in the series, Fat Eighth Flip! Turn, twist, and flip this block to create a simple and sophisticated quilt that everyone is sure to love.
DOWNLOAD THE FAT EIGHTH FLIP QUILT PATTERN
The Fat Eighth Flip Quilt comes in three sizes including throw, queen, and king. We have a Fat Eighth Flip Quilt Kit available, including the supplies for the top and binding, to make one just like ours! A Fat Eighth Flip Backing Set is also available.
Fabric Bundle Giveaway! – CLOSED
And now for a giveaway! Here's your chance to win the Lakeside Gatherings Flannel Fat Eighth Bundle by Primitive Gatherings for Moda Fabrics! To enter, leave a comment below telling us what your favorite shortcut quilt design is!
Congratulations to Bobbie U, our giveaway winner!
Leave a comment on THIS post to enter
The giveaway ends on August 17, 2023, at 11:59 CST
One winner will be chosen at random on August 18, 2023
Open to all – both US and international
We will notify the winner by email and update this post
Share with FQS
We hope you enjoy sewing up this project and others using the free Fat Eighth Flip pattern! Please share your work using #FatEighthFlipQuilt on Facebook and Instagram and tag @fatquartershop to ensure we don't miss it.
Happy Quilting!
Stay connected to Fat Quarter Shop!