If you're looking for an eye-catching way to organize your sewing supplies, look no further than this DIY tray! This beautiful quilt block tray serves as a catch-all to keep your essential sewing supplies in one convenient place. Follow the step-by-step tutorial below to make one of your own!
This delightful project is practical and a great way to put your extra quilt blocks to good use. Whether you're a seasoned quilter or just looking to add a touch of handmade flair to your sewing room, you can join us as we transform a few simple materials into a charming sewing tray that puts the "fun" in functional.
Supplies
Quilt Tray Supplies:
Serving or acrylic tray of choice (we used a white acrylic tray from Amazon)
A quilt block approximately the same size or a little larger than the inside of your tray

(Note: We have many free Classic & Vintage Quilt Block patterns you can choose from. If the quilt block you choose is smaller than your tray, you can add borders to fold onto the sticky board. If your block is larger than the base of your tray, then be mindful that you may lose some points or details around the edges.)
Our Quilt Block Supplies:
How to Make a Quilt Block Tray
1. Measure the dimensions of the inside bottom of your acrylic tray and determine if your block is smaller or larger than your tray bottom. This is when you would add borders or select a larger block for folding around the mounting board if needed.
We added 1.5″ strips to ours to fill the extra space and allow us to secure the fabric to the back of the sticky board.
2. Using your previous measurement of your tray bottom, cut the self-stick mounting board to fit. This will be how you attach the quilt block to the tray bottom.
3. Peel off the backing from the self-stick mounting board and carefully center the quilt block on the non-stick side of the board. Press down firmly to secure it in place.
4. Next, fold the edges of your quilt block over to the back. Press down firmly to secure it in place.
5. Slide the quilt block with the mounting board into the acrylic tray and press firmly down. It should fit snugly, creating a clean and finished look.
Now it's time to add your sewing supplies! Once the quilt block is securely in place, it's time to fill your tray with all your odds and ends. Organize your thread spools, buttons, needles, scissors, and any other sewing supplies you want to keep within reach.
Giveaways – CLOSED
Congratulations to Jean Kearney our Layer Cake Giveaway winner!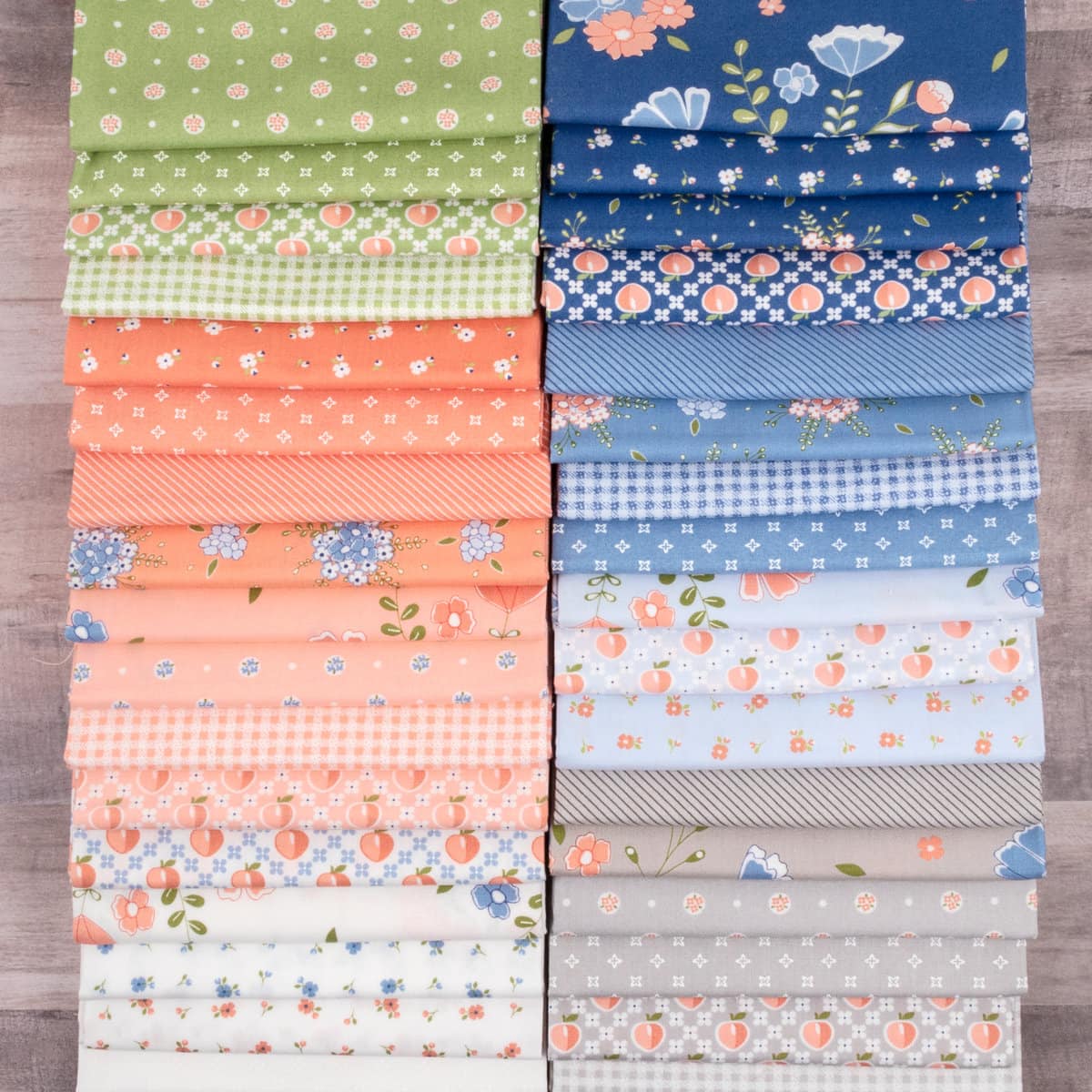 And now for a giveaway! Here's your chance to win a Peachy Keen Layer Cake! To enter, leave a comment below telling us the quilt block that you would want to turn into a sewing room tray.
Leave a comment on THIS post to enter
The giveaway ends on October 16, 2023, at 11:59 CST
One winner will be chosen at random on October 17, 2023
Open to all – both US and international
We will notify the winner by email and update this post
We're sharing this quilt tray tutorial as part of this year's Autumn Jubilee hosted by Carole of From My Carolina Home! You can find more details about this special month-long event in her Autumn Jubilee Kick Off and by visiting her on Facebook. She's giving away a $50 Fat Quarter Shop Gift Card today, so don't miss the chance to check out her blog!
Share with FQS!
This simple sewing tray is a cute way to use an orphan quilt block while infusing your sewing room with a bit of handmade charm. Share your quilt block trays with us on Facebook and Instagram and tag @fatquartershop so we can see and share your work!
Happy sewing!
Stay connected to Fat Quarter Shop!