We love making
zipper
bags with our
favorite fabrics
and bet you do too! Not only are they a great way to use the gorgeous fabrics in your stash, they are fun, functional, and make great gifts!  These zipper bags are great for holding things like sewing and quilting supplies, art supplies, cosmetics, small electronics like e-readers, and more!
Today we're sharing a video tutorial that will show you exactly how to make a zipper bag of your own – no pattern needed. Kimberly and guest Sherri McConnell will walk you through the steps, so pull up a chair and get ready to make something stitch-tastic! What will you put in your Simple Zipper Bag? (The fabric requirements are listed in the video, and will also be listed in this post at the very bottom, for your reference.)
Bonus!  We have several example bags made by FQS staffers to share so you can see just how cute these bags are in different fabrics, so keep scrolling down to the bottom for lots of ideas! Oh, and not only do we have fabulous fabrics, should you need some, we also carry the same type of zipper that Sherri mentions and uses in the video!
The icing on the cake is the projects our sew-along bloggers have created in their own styles, so be sure to visit their blogs below for even more inspiration!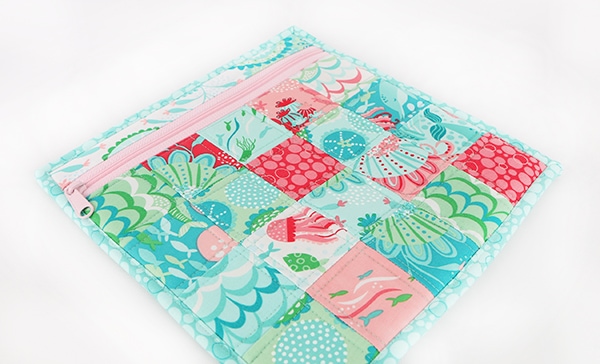 You can also make a smaller pencil case size, like this one made with
Backyard Roses
fabrics.
How sweet is this bag made up with
First Blush
fabrics?
If you like bright and modern, try a zipper bag made with
Flow
fabrics!
 Couldn't you just eat up this bag made with the
Bread n' Butter
collection?
TAKE A PEEK AT THE DARLING BAGS OUR SEW ALONG BLOGGERS HAVE MADE!
We're super happy to have these talented ladies sewing along.
We hope you've enjoyed the
video
and inspiration!
We'd love to see the Simple Zipper Bags you create,
Happy Sewing & Quilting!
Medium Simple Zipper Bag – 8" x 10 ½"
*Materials:
15 – 2 ½" mini charm squares
Fat quarter lining and zipper strip fabric
¼ yard zipper pull & binding fabric
Fat quarter backing fabric
1 – 12" zipper
One pack Soft & StableFusible Interfacing
*Cutting:
From lining and zipper strip fabric, cut:
1 – 7" x 11" rectangle (lining)
1 – 9" x 11" rectangle (lining)
1 – 1.5" x 12" rectangle (zipper strip)
Zipper pull & binding fabric:
1 – 1.5" x 12" rectangle (zipper pull)
2 – 2 ¼" x wof strips (binding)
From backing fabric, cut:
1 – 9" x 11" rectangle
From Soft & Stable, cut:
1 – 7" x 11" rectangle1 – 9" x 11" rectangle
From Interfacing, cut:
1 – 1 ½" x 11 ½" rectangle
Large Simple Zipper Bag – 10" x 10 ½"
*Materials:
20 – 2 ½" mini charm squares
Fat quarter lining and zipper strip fabric
¼ yard zipper pull & binding fabric
Fat quarter backing fabric
1 – 24" zipper
One pack Soft & Stable
Fusible interfacing
*Cutting:
From lining and zipper strip fabric, cut:
1 – 9" x 11" rectangle (lining)
1 – 11" x 11" rectangle (lining)
1 – 1.5" x 12" rectangle (zipper strip)
Zipper pull & binding fabric
1 – 1.5" x 12" rectangle (zipper pull)
2 – 2 ¼" x wof strips (binding)
From backing fabric, cut:
1 – 11" square
From Soft & Stable, cut:
1 – 9" x 11" rectangle
1 – 11" square
From interfacing, cut:
1 – 1 ½" x 11 ½" rectangle