Happy 4th of July to all of you! We hope you enjoy your day off, eat great food and watch the fireworks! Today we're sharing five of our favorite quilts in red, white and blue, plus a special sale and a patriotic project too cute to miss!
Save up to 50% OFF select patriotic fabric, patterns and more with our 4th of July Sale now through Wednesday!
We've discounted many of our patriotic themed items so you can celebrate with collections that feature a symphony of stars, stripes and vibrant shades of red, white and blue!
This sale ends Wednesday, July 5th at midnight CST.
Quilts of Valor
We're thinking of the Quilt of Valor Foundation on this patriotic holiday. Through this program, quilters award a handmade patriotic quilt to a Service Member or Veteran who has been touched by war. These quilts are a tangible and comforting act of gratitude for those who have served and sacrificed for our nation.

If you would like to make a quilt to donate, it's important to remember that the Quilts of Valor Foundation has certain guidelines for quilts to be awarded. To help out, we're sharing five quilt patterns that meet Quilts of Valor (QOV) size and design guidelines. All of these free quilt patterns are available at Fat Quarter Shop. Plus, they're Shortcut Quilt patterns using fat quarters, so they're easy to get started!
1. Fat Quarter Cobblestone Shortcut Quilt
This first one is our FREE Fat Quarter Cobblestone Quilt pattern, and it starts with a Fat Quarter Bundle of Liberty Artisan Batiks (or 25 fat quarters). Choose the first quilt size in the pattern which finishes at 63.5″ x 80.5″ for a quilt that meets QOV size requirements.
2. Fat Quarter Fizz Shortcut Quilt
Beacon is the star of this patriotic Fat Quarter Fizz Shortcut Quilt. You can pick up a Fat Quarter Bundle of Beacon by Whistler Studios for Windham Fabrics to make a quilt like the one below. This bundle has the right variety of light and dark prints you'll need for the pattern, and as you can tell, this is a beginner-friendly design that will go together fast! Make the 60.5″ x 72.5″ quilt on the pattern cover for the right size quilt.
3. Fat Quarter Flowers Shortcut Quilt
This beautiful Fat Quarter Flowers quilt can be made with 10 Fat Quarters and 7" Half Square Triangle Paper. The Fat Quarter-friendly quilt pattern looks complicated, but the technique for making the flowers is surprisingly simple! We recommend adding a 2.5″ strip on the top and bottom of the quilt (or on all four sides) to bring it up to the ideal QOV quilt size.
3. Fat Quarter Cubes Shortcut Quilt
Fat Quarter Cubes is a simple nine-patch quilt, and can be made with TWO Isabella Petite Fat Quarter Bundles (or 18 fat quarters). Spectrastatic Tar by Guicy Guice for Andover Fabrics, is the gray background fabric that pulls it all together. By finishing with a scrappy border, you can get the most out of your fabrics.
4. Fat Quarter Snowballs Shortcut Quilt
Fat Quarter Snowballs is a classic design that looks ever so patriotic in the Land of the Brave Fat Quarter Bundle by My Mind's Eye for Riley Blake Designs. The background is Blossom Silver by Christopher Thompson. Choose the Twin-sized pattern to meet QOV standards.
If you make one of the quilts above, be sure to share your make with #ShortcutQuilt and tag us so we can see! As an added bonus, we have free video tutorials on the Fat Quarter Shop YouTube channel for all the Shortcut Quilts.
William's Honor
Additionally, Fat Quarter Shop offers the William's Honor Free Quilt Pattern, which we designed to meet QOV size and design standards. The William's Honor Quilt Kit will be available later this year.
Learn more about how to award a quilt, donate longarming services, or nominate a service member on the Quilts of Valor Foundation website.
A Patriotic Pillow
We simply had to share this charming Stripes & One Star Pillow, designed by Carrie Nelson. It can be made with scraps, and quilted (or not!) on your home machine for a satisfying project. You can find this free pattern and several other patriotic pillow designs on the Moda blog.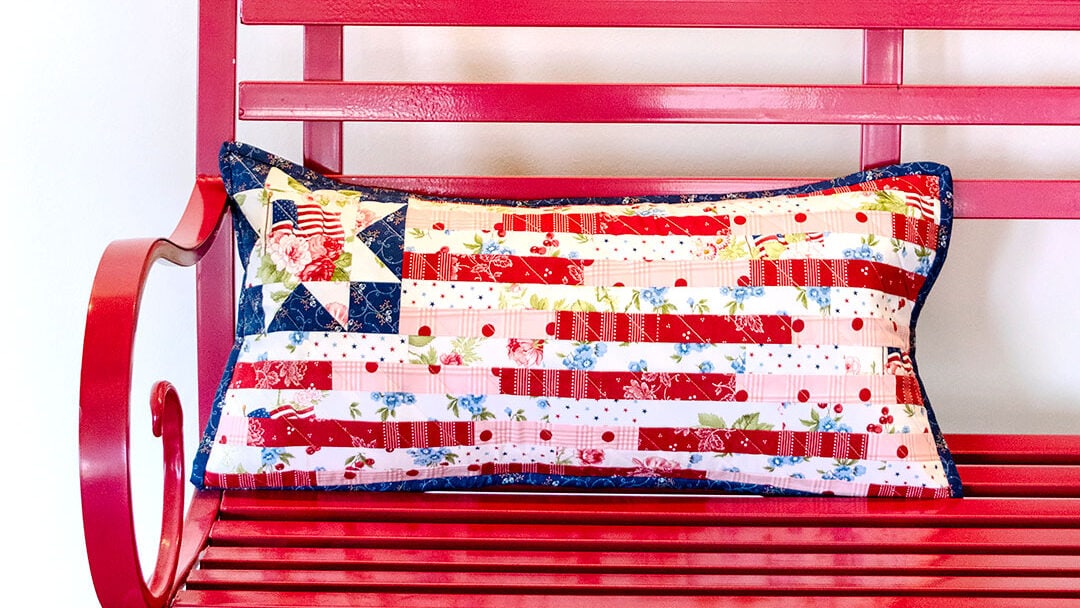 Are you looking for some patriotic cross stitch inspiration? Check out the patriotic projects on the Red, White & June Stitch Along blog post for pattern ideas.
We hope all of you have a fun and safe 4th of July!
Stay connected to Fat Quarter Shop!