The possibilities are endless fun with Kimberly Jolly and half-square triangles! Kimberly has teamed up with Gina Tell to bring you a FREE quilt pattern in six sizes! By pairing this pattern with the Triangles on a Roll Triangle Paper, this quilt comes together in no time and the possibilities are truly endless!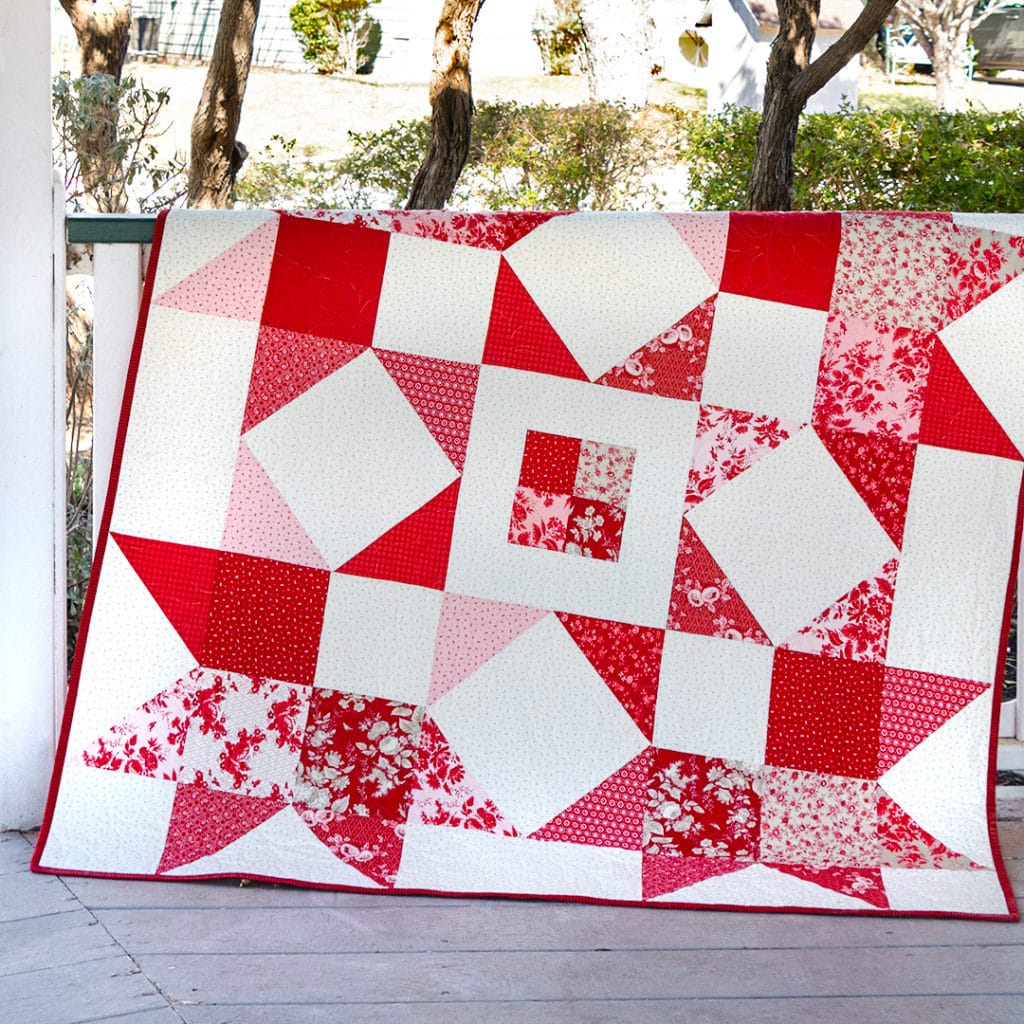 We also have the Pointed Possibilities Quilt Kit and Backing Set available too! 
DOWNLOAD THE POINTED POSSIBILITIES PATTERN
The Pointed Possibilities quilt pattern is a choose-your-own-adventure pattern where the quilt size is determined by the size of Triangles on a Roll Paper you choose! Use 1″ finished HST's to make an 8.5″ square mini, or scale up to 6″ HST's to make one like ours! The Pointed Possibilities Quilt Kit includes the Pointed Possibilities Quilt Pattern, 6″ Half Square Triangles on a Roll #H600 and Roselyn fabric for the 48.5″ x 48.5″ quilt top and binding.
The quilt kit comes with the stunning yet soft and floral Roselyn fabric collection by Minick & Simpson for Moda Fabrics! Roselyn is a vibrant study of contrast full of detailed floral and paisley prints sure to add an air of elegance to any project.
Watch the Video Tutorial
Kimberly shows you how to make Pointed Possibilities in this new video tutorial!
If you are reading via email, please click here to watch the video tutorial.
About the Quilt!
In 2018, our quilting friend Gina Tell came up with the idea for the Pointed Possibilities Quilt Pattern to celebrate her new sister-in-law joining her family! Gina was inspired to sew up this quilt after she saw a small yellow barn quilt on an old country road in Iowa. Her sister-in-law Ellen loves the color red, and she has four children. The four stars in the quilt represent Gina's sister-in-law's family becoming one in the center! Visit Gina's blog, Thread Graffiti, to see some 'behind the seams' photos and enter a special giveaway!
Pointed Possibilities looks so good in all sizes. As a pillow, table runner, mini quilt, and more!
The It's Sew Emma Triangles on a Roll Triangle Paper will become your quilting BFF for making half-square triangles! These rolls of paper are printed with sewing and cutting lines for the exact size you need for your project, leaving out the guesswork and complicated math. This handy Half-Square Triangle Cheat Sheet will guide you to the right sized paper for whatever size HST you're making. Follow along with this tutorial to see how easy it can be.
Share with #PointedPossibilitiesQuilt
We hope you enjoy quilting your own Pointed Possibilities Quilt! We'd love it if you'd share your projects using #PointedPossibilitiesQuilt and tag us (@fatquartershop) so we can see your work!
Stay connected to FQS!