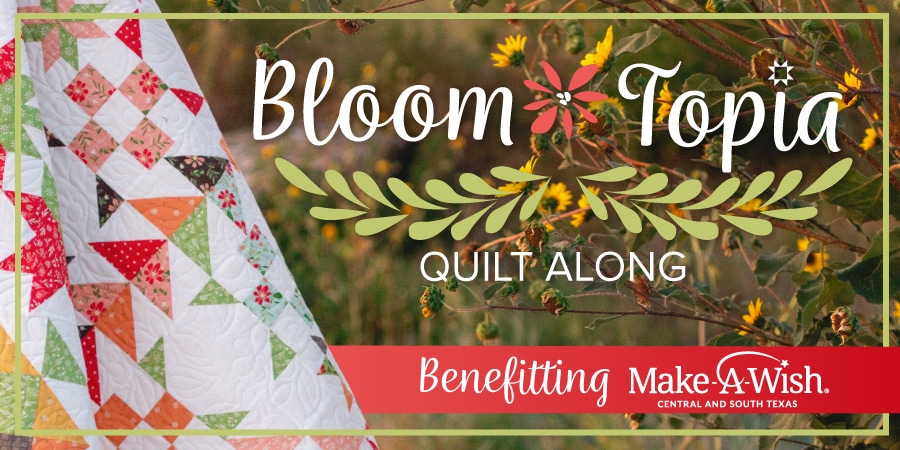 We're ready for our 7th Annual Charity Quilt Along, Bloom-Topia! We're diving into this year's quilt along with the fabric requirements for this beautiful quilt!
If you'd like to make your quilt like ours using the Summer Sweet collection by Sherri and Chelsi for Moda Fabrics, we have Quilt Kits and Backing Sets available. If you're sewing with something different, here are the fabric requirements to make this year's charity quilt. Click the bar below to download fabric requirements.
Also, be sure to read to the bottom for information on the extra settings we are offering with the Bloom-Topia blocks this year!
Bloom-Topia Quilt Kit
The Bloom-Topia Quilt Kit comes with lots of exclusive goodies, including the full set of patterns for the quilt top and finishing will be included, along with an exclusive half-rectangle triangle template and Triangles on a Roll 3″ triangle paper. It all comes packaged in an exclusive keepsake box with magnetic closure.
The Bloom-Topia Specialty Pieced Backing Set comes with the backing pattern and an exclusive mousepad.
This year, we have an exciting addition to the event – a cross stitch design. The Bloom-Topia Stitch Along will run in tandem with the Quilt Along. You can find all the information and updates on our Stitch Along page.
Our Bloom-Topia Quilt Pattern and Cross Stitch Chart benefit Make-a-Wish Central & South Texas.
How the Fundraiser Works
If you're new to our Charity Quilt Along, welcome! We offer the Bloom-Topia patterns as FREE downloads during the quilt along for a suggested donation of $5 each to our Make-A-Wish Central & South Texas campaign. For the cross stitch pattern we suggest $15 total.
Starting February 1, 2020, we will release two patterns each month for six months here on the blog. Simply follow along on our blog to download the patterns as they are posted! Also, we're pleased to announce that Sherri and Chelsi are filming the free complementary videos for each pattern to give you pointers for assembling your blocks.
Fat Quarter Shop is happy to be partnering with Moda Fabrics to match up to $10,000 each in donations for this worthy cause.
Bloom-Topia Quilt Along
We have a great lineup of quilters (including the fabric designers, Sherri & Chelsi!) quilting along with us! Here are all of the awesome folks quilting along with us:
New Finishing Patterns to Help Reach our Fundraising Goals
We are so excited to announce that along with having the block patterns for Bloom-Topia, we will be releasing extra finishing patterns you can use with the blocks!
With your help, we can reach our goal of $30,000 in donations towards Make-A-Wish Central & South Texas! When you donate today, you'll get us closer to our goal of granting five wishes, and closer to releasing a new finishing pattern. Thanks to your generosity, we've already surpassed our first goal! We will release the additional finishing pattern on February 1, along with Block 1.
Join us!
Don't forget to bookmark our 2020 Bloom-Topia Quilt Along Page to refer to throughout the quilt along. We'll link all the pattern releases there. Get inspired and share with #bloomtopia on Instagram. We hope to see you back here on the blog on February 1 for the first pattern release of our 2020 Bloom-Topia Charity Quilt Along!
Until then, Happy Quilting!
Stay connected to FQS!