Welcome to our Tablerunner Bliss Quilt Along featuring the Tablerunner Bliss Book! We are officially on Week 7 of this quilt along!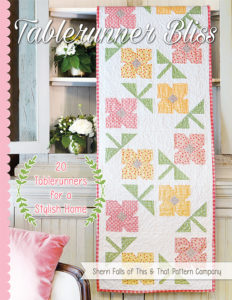 Tablerunner Bliss is  by Sherri Falls of This & That Pattern Company and features 20 gorgeous tablerunners for a stylish home. Every time you gather around the table with your friends and family, treat each occasion with a stylish tablerunner!
This Quilt Along will feature each of the 20 tablerunners in the Tablerunner Bliss Book! Broken down into 10 weeks, our Quilt Along will feature 2 tablerunners each week. We are featuring the Liberty Tablerunner and the Lovely Tablerunner in week 7 of this Quilt Along!
The Liberty Tablerunner is made using Cottonworks Wovens by Minick & Simpson for Moda Fabrics.
The Lovely Tablerunner is made using Farmhouse Reds by Minick & Simpson for Moda Fabrics.
We have an awesome group of 20 quilting bloggers joining us for this event. Each week, 2 of the 20 bloggers will be sharing their assigned tablerunner with you! Be sure to visit our bloggers to see what they had to say about their tablerunners!
Here is a list of the amazing quilting bloggers for the Tablerunner Bliss Quilt Along – thanks for joining in on the fun quilters!
Tablerunner Bliss Quilt Along Schedule
Happy quilting everyone! See you back here on October 24 for Week 8 of the Tablerunner Bliss Quilt Along!
Stay connected to FQS!