Welcome to our Tablerunner Bliss Quilt Along featuring the Tablerunner Bliss Book! We are officially on Week 3 of this quilt along!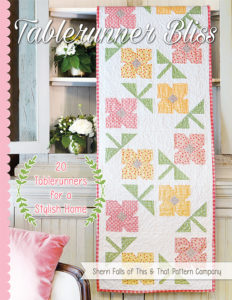 Tablerunner Bliss is  by Sherri Falls of This & That Pattern Company and features 20 gorgeous tablerunners for a stylish home. Every time you gather around the table with your friends and family, treat each occasion with a stylish tablerunner!
This Quilt Along will feature each of the 20 tablerunners in the Tablerunner Bliss Book! Broken down into 10 weeks, our Quilt Along will feature 2 tablerunners each week. We are featuring the Crossroads Tablerunner and the Daybreak Tablerunner in week 3 of this Quilt Along!
Crossroads Tablerunner by Lorna of Sew Fresh Quilts
The Crossroads Tablerunner is made using Manderley by Franny & Jane for Moda Fabrics.
The Daybreak Tablerunner is made using Berry Merry by BasicGrey for Moda Fabrics.
We have an awesome group of 20 quilting bloggers joining us for this event. Each week, 2 of the 20 bloggers will be sharing their assigned tablerunner with you! Be sure to visit our bloggers to see what they had to say about their tablerunners!
Here is a list of the amazing quilting bloggers for the Tablerunner Bliss Quilt Along – thanks for joining in on the fun quilters!
Tablerunner Bliss Quilt Along Schedule
Happy quilting everyone! See you back here on September 26 for Week 4 of the Tablerunner Bliss Quilt Along!
Stay connected to FQS!