It is the seventh month of the Scrappiness is Happiness Quilt Along, and we can't believe everything is wrapping up next month! As you know, Lori Holt's Scrappiness is Happiness Quilt Book is designed so that we can create beautiful quilts from our own scrap baskets, and that includes the blocks in this quilt along. We're not done yet, so let's check in and see where we're at!
Week 25: Patchwork Tulip Block
Week twenty-five, our Patchwork Tulip blocks bloomed bright! With this block, we turned social media channels into our gardens for the day when we all shared our blocks. Did you share yours with #ScrappinessIsHappinessQAL?
Week 26: Quick Broken Dishes Block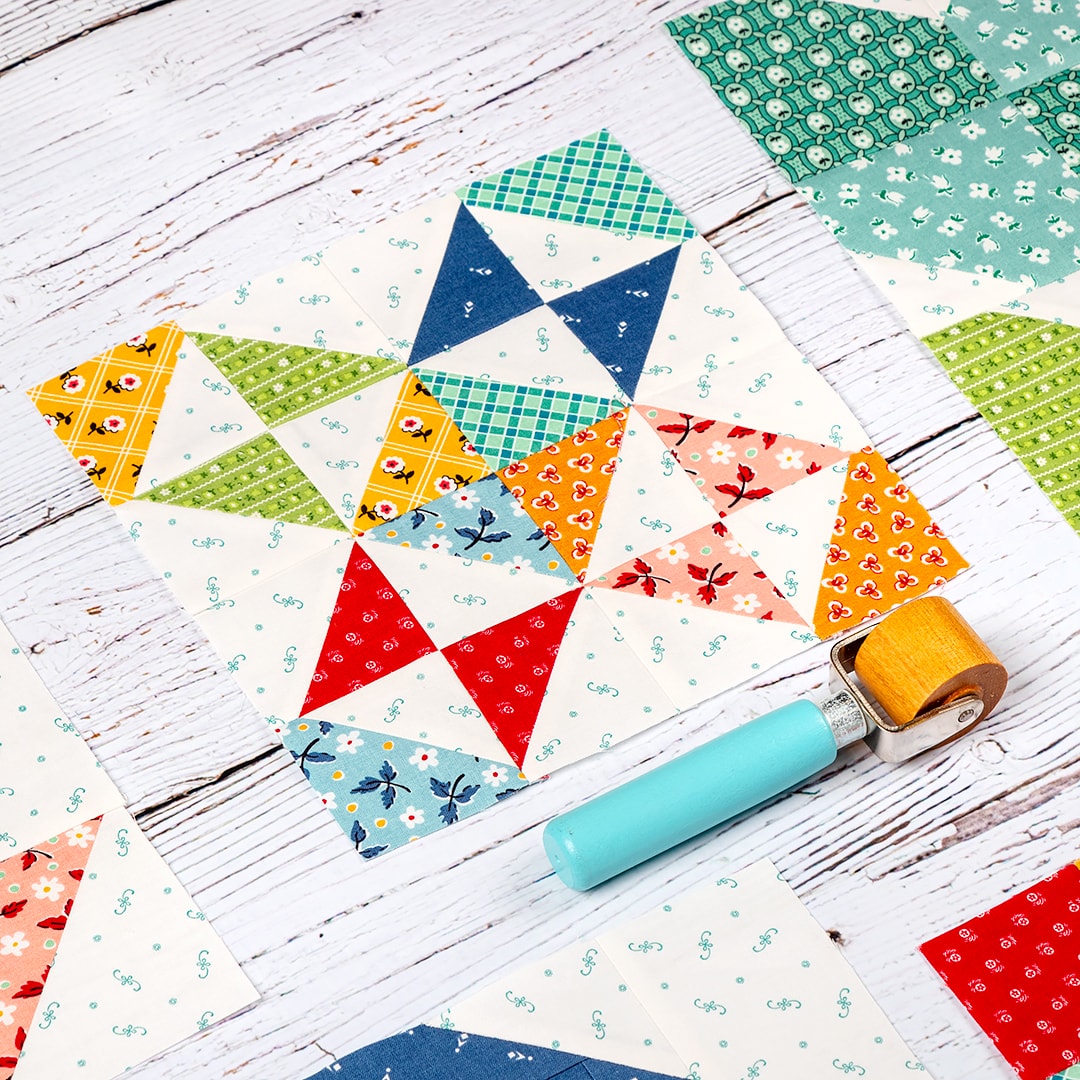 Did you break out in a smile when making your Quick Broken Dishes Block? We sure did! This block full of half and quarter-square triangles looks intricate and is done in the nick of time!
Week 27: Quick Dash Block
Run! We finished our Quick Dash Block in, well, a dash! Did you sew yours, or are you catching up?
We love how the Quick Dash Quilt from the Scrappiness is Happiness Quilt Book that repeats the Quick Dash Block looks. This scrappy design is for everyone, no matter your quilting speed!
Week 28: Sixty-Four Block
In Week Twenty Eight, we sewed Sixty-Four. The Sixty-Four Block, that is! This block is a great way to sew up your tiniest scraps and avoid fabric waste! What collections can you peek in yours? Share them and tag @fatquartershop so we can see them too.
Week 29: Spring Basket Block
Are you ready to spring into action and finish this quilt along? The Spring Basket Block is our twenty-ninth, and we only have a couple more to go. Are you caught up?
About the Quilt
The quilt pattern, designed by Lori Holt, finishes at 83.5" square, and you can see all the supplies for this sew along by heading to the Scrappiness is Happiness supplies page. Lori Holt is sharing free block tutorials on her Youtube Channel, so be sure to visit her for updates. You can find the list of blocks to sew each week on page 2 of the Scrappiness is Happiness Quilt Along Pattern, or visit this page for the dates.
Join the Scrappiness is Happiness QAL!
Share the badge below to show you're participating in the Scrappiness is Happiness Quilt Along.
You can find Lori Holt on her blog and YouTube Channel to learn more and follow her on Instagram (@beelori1).
Keep up with us by following @fatquartershop on Instagram, and don't forget to share your progress with #ScrappinessIsHappinessQAL and tag @fatquartershop, so we don't miss seeing your scrappy quilts. Visit the blog next month, on June 17, for our last couple of blocks and to see some finished quilts!
Stay connected to Fat Quarter Shop!