From Shortcut Quilts to books, we've collected some of our favorite baby quilts and blankets for you to sew. They make great projects for beginners and even kiddos that are looking to get into quilting this summer.
Starry Charms, more like charming stars! This charm pack-friendly quilt is made from easy friendship stars and simple half-square triangles. Watch our video to see how to put this quilt together, and pick up the FREE downloadable pattern to get started. We used the collection Little Ducklings by Paper + Cloth for Moda Fabrics.
2. Easy Rainbow Baby Bargello
It's Bargello beginner fun! This quilt is fun, easy, and sew colorful! The FREE Easy Rainbow Baby Bargello quilt pattern comes in two sizes and is sure to brighten up any crib or room.
Watch the video to see how to put this project together, and pick up the Easy Rainbow Baby Bargello Quilt Kit to make one just like ours.
Teresa from Shannon Fabrics filmed this tutorial about making a double gauze swaddle. She uses Embrace double gauze for this baby blanket. Our free video tutorial has simple step-by-step instructions to help you make your own!
You can make the Two by Two Receiving Blanket in no time with this video tutorial and FREE quilt pattern. This project is perfect for beginner quilters and for gifting to a newborn. Grab the fabric of your choice and get started by following along with Kimberly below!
This receiving blanket finishes at 37″ x 37″ and for ours, we used prints from Bloom and Bliss by Nadra Ridgeway for Riley Blake Designs. This is another FREE Quilt Pattern that would be simple for beginner quilters or anyone looking for a quick quilting project. Like the other quilts above, it would be a memorable gift.
If all these baby quilts have you excited, then the Fat Quarter Baby Quilt Book is going to be the cherry on top! Fat Quarter Baby includes 20 crib-sized quilts (and a bonus table runner) to make for all the little bundles of joy in your life or ones to come. The designs range in style and there's certain to be something for every quilter.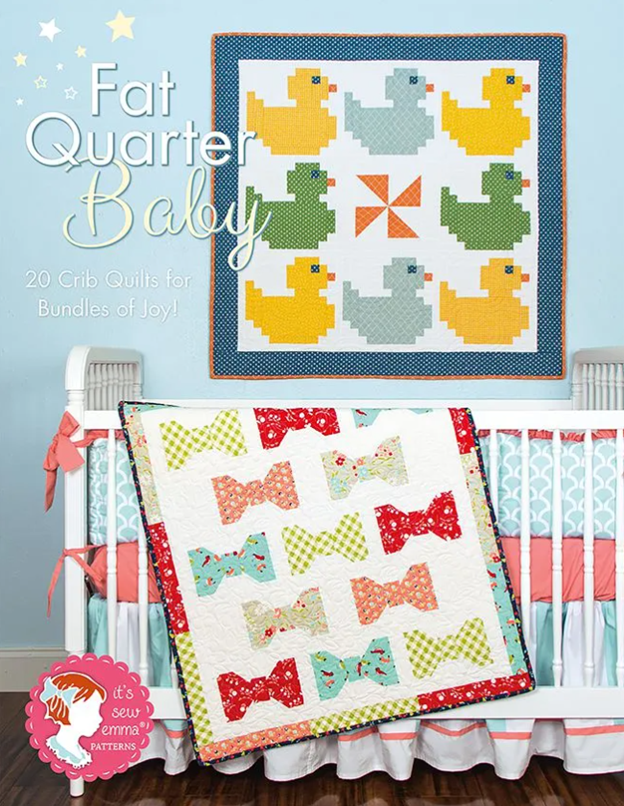 Many quilters start their quilting journey by making a baby quilt. They're perfect for beginner quilters to learn on because they're small, and the patterns are often simple. Celebrating the arrival of a new baby is always a good reason to make a quilt, and if you know a quilter, you might be lucky enough to receive one as a gift.
Share with Us!
Are you sew excited to sew baby blankets and quilts? Share your creations with us on Facebook and Instagram and tag @fatquartershop so we can see and share your work.
Don't forget to leave a comment below telling us what project you can't wait to get started on first.
Happy Quilting!
Stay connected to Fat Quarter Shop!