We're happy to present our first ever quilt and stitch along for Black History Month, to bring our creative community together to support a worthy cause and to highlight the achievements and contributions of several African American women in the fiber arts.
The title "Stronger Together" acknowledges the many Black Americans that have influenced our community. It's a mission statement to impact our future right now, starting with this fundraiser for United Negro College Fund (UNCF) and highlighting amazing Black quilters and stitchers.
We started with the inspiration of Harriet Tubman. She is courage, persistence, strength, endurance and wisdom. Tubman was guided by her moral compass to do the right thing and guided physically by the North Star that led her and the slaves she rescued to freedom multiple times. No matter the obstacles, risks and handicaps, she persevered.
The North Star quilt block became the star of our quilt and cross stitch. The designs contain several signs from the story of the quilt code, selected for the symbolism of courage and goodwill toward others on the same path. The cross stitch coordinates with the quilt, and also has a bonus cross stitch chart featuring the "Stronger Together" statement, so you can choose to stitch either chart. Each pattern features biographies of Black women who influenced us through fiber arts, and we hope you love learning about them as much as we did.
UNCF Fundraiser
From now through February 28, 2021, 100% of the proceeds from the sales of Stronger Together Quilt Patterns and Stronger Together Cross Stitch Patterns will go to United Negro College Fund (UNCF). The mission of UNCF is to increase the total number of African American college students and helping them persist to graduation. They do this through awarding scholarships, providing financial support to historically black colleges and universities (HBCUs), and advocating for the importance of minority education and community engagement.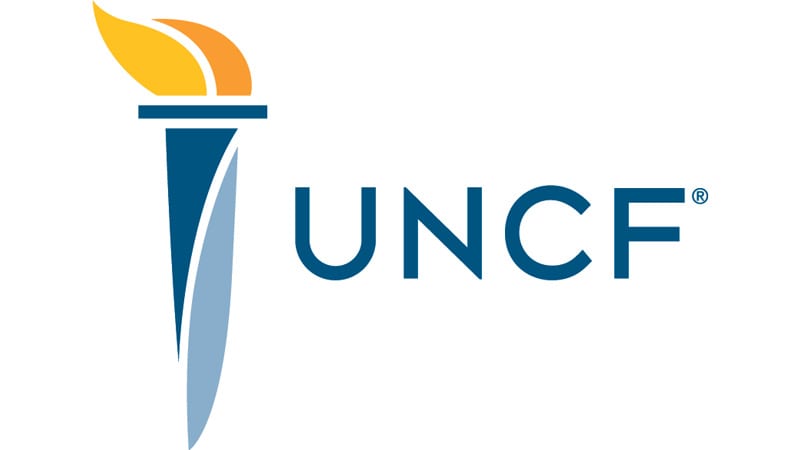 About the Quilt
Our quilt is made in Speckled by Rashida Coleman-Hale of Ruby Star Society. Ruby Star Society is also raising funds with their Ruby Star Pep Talk Project Panel series for a worthy charitable organization. For every Pep Talk Panel sold, Ruby Star Society will donate $5 to The Loveland Foundation, a nonprofit organization dedicated to providing healing and support through therapy. They are committed to communities of color, with a particular focus on Black women and girls.
We have a limited supply of quilt kits (Update: the quilt kits are delayed until late January/early February. This is unfortunate but not uncommon given the current disruptions in worldwide shipments) and thread packs to make samples like Fat Quarter Shop's, and they both contain an exclusive Stronger Together bracelet to remind us of our mission statement. Proceeds of these kits and thread packs do not go toward the Stronger Together fundraiser.
We started this quilt with the Speckled fabric collection by Rashida and chose colors that were bright, strong and optimistic. We carried it over to the cross stitch to match. Learn more about the quilt colors and design in this video from the quilt designer, Jocelyn Ueng.
We've created a coloring sheet so you can plan your own unique design. Click on the banner below to download your own copy!
DOWNLOAD THE STRONGER TOGETHER QAL COLORING SHEET
Ruby Star Pep Talk Project Panel
Stronger Together Quilt Along
The Stronger Together Quilt Along and Stitch Along will last for four weeks, from February 1 – 28, 2021. Each week we'll sew part of the Stronger Together quilt and cross stitch and share updates each week on the blog. The quilt along will follow the pattern instructions, week by week.
Stronger Together SAL Schedule
If you'd like to stitch along with us, we've outlined the schedule below starting with the outer border for Week 1.
Who's sewing along?
We invited some friends to stitch along with us and they're sharing their progress along the way! You can follow them on social media for inspiration and tips along the way!
Kimberly Bennefield, nwpepper
Shereece Spain, SewHookedOnTreasures
Sandra Johnson, SandraJohnsonDesigns
Jeresther Page, sew_sweet_seebee
Valerie, Stitching in the Barn
Colleen and Cheryl, Stitching with the Sisterlies
Rika, The House of Stitch & Stash
Julie, Kansas City Girl in a Colorado World
Denise, Black Ribbon Studio
Jan Hicks, Jan Hicks Creates
Dianne, Hot Mess Princess
Lolly, Lollypop Stitches

EVERYONE can sew along! To join in, all you have to do is purchase a pattern and gather your supplies. Keep up with us by visiting the blog each Tuesday, or follow the hashtag #FQSStrongerTogether on Instagram to see and share work from your fellow quilters. Join us back here on the blog every Tuesday in February for updates! 
Stay connected to FQS!