This Scrappy September, we want you to raid your fabric stash and sew up something beautiful with all that's left from your other projects. We quilters end up with lots of leftover fabrics, and that inspired us to get scrappy with our September sewing! This September, why not make a new quilt entirely from scraps?
Kimberly chose some scrap-friendly patterns to work on this year, and we gathered a few more to inspire you. When looking for the perfect pattern to use your leftover fabrics, you'll want a quilt that calls for small pieces in the fabric requirements. Consider the size of your scrap stash and choose a quilt pattern accordingly.
1. Scrappy Strings from Scrappiness is Happiness by Lori Holt
Kimberly took scraps from various fabric collections and used them to make the Scrappy Strings Quilt from Scrappiness is Happiness, Lori Holt's newest book.
If this quilt is calling to you, you need only a few things to make your scrappy quilt like Kimberly's, including Lori Holt's new book and some of Lori Holt's interfacing (due in September). You can also use lightweight printer paper or plain fabric as the foundation to which to sew your scraps. If you love scrappy quilts, you can also check out our Scrappiness is Happiness Quilt Along with Lori Holt starting October 31 for even more scrappy fun.
2. The Weekender from The Bonnie & Camille Bee Quilt and Cross Stitch Book
The Weekender quilt measures 68″ x 68″ but could easily be made bigger or smaller depending on the scraps in your stash. The small squares mean you can capitalize on those small scraps in your stash. The simple and elegant design will allow you to create some stunning patchwork.
Pick up The Bonnie & Camille Bee Quilt and Cross Stitch Book to make this quilt. In it, you'll also find 12 amazing projects! Scrappy or not, this quilt will highlight whatever fabrics you use.
3. Jelly Roll Scrap Quilt by Fat Quarter Shop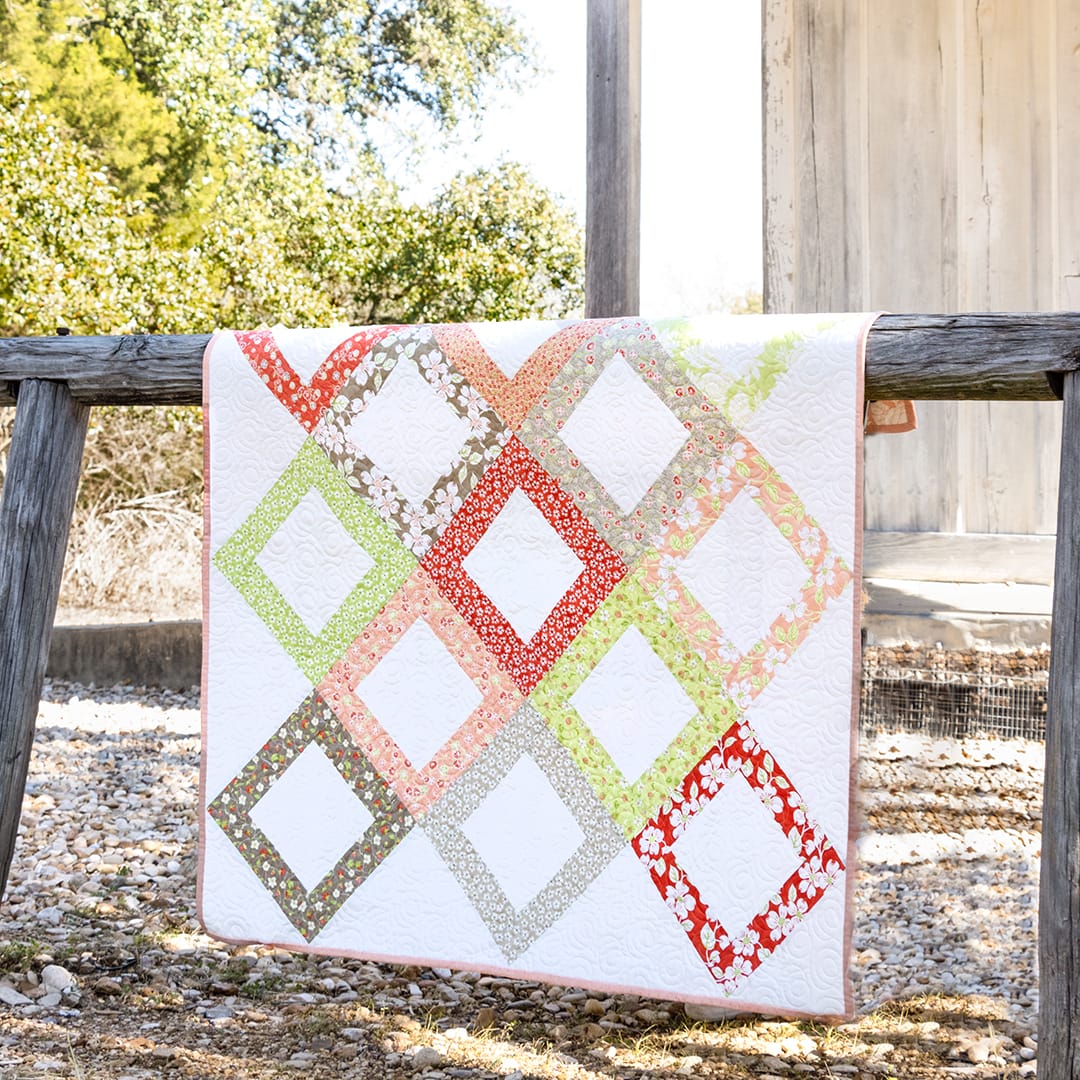 Leftover strips from Jelly Rolls or 2.5″ strips in your collection of scraps become the stars of the show in this scrappy quilt. The Jelly Roll Scrap Quilt by Fat Quarter Shop is precut-friendly and goes together easily.
You can sew along with Kimberly to make this beginner-friendly quilt. The Jelly Roll Scrap Quilt tutorial on the Fat Quarter Shop YouTube Channel will guide you through, step-by-step.
4. Postage Stamp Journey Quilt by Fat Quarter Shop
This Classic & Vintage quilt includes a FREE block pattern perfect for your littlest strips of fabric. The block uses 1.5″ strips or Honey Buns, and finishes at 9.5″ square. The low-priced PDF quilt pattern includes setting patterns for Crib, Lap, Twin, and Queen size quilts.
Watch the Postage Stamp Journey video tutorial to go on a journey with Kimberly to make this timeless block with your collection of fabric scraps.
If you want to make your Postage Stamp Journey Quilt the same as ours, you can pick up the Postage Stamp Journey Quilt Kit and Backing Set. You'll just have to be sure to use your scraps from it in one of these other quilts!
5. Brick House Scrap Quilt by Fat Quarter Shop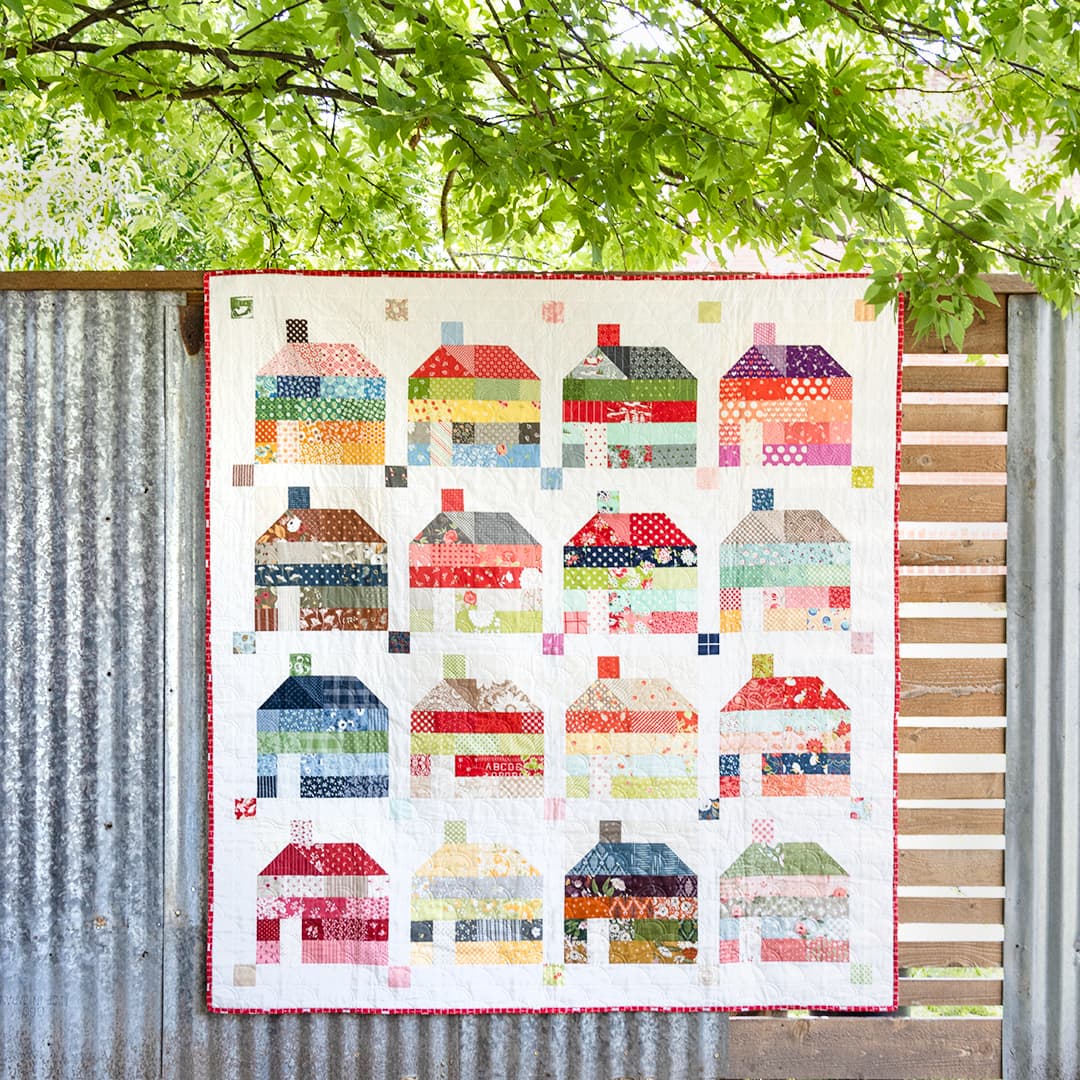 If you've been tuning in to Quilting Livestreams on the Fat Quarter Shop YouTube Channel, then you've seen the Brick House blocks and quilt that Kimberly created with the collections she's been sewing with this year.
The Brick House Scrap Quilt is a FREE PDF pattern that makes a wonderful memory quilt. You can highlight your favorite fabrics left over from past projects you've made by sewing the Brick House Scrap Quilt for Scrappy September!
6. Swirling Stars Quilt by Fat Quarter Shop
If you love star blocks then the Swirling Stars Quilt might be for you. The FREE PDF quilt pattern uses two sizes of Triangles on a Roll to make easy half-square triangles. You can learn more about it on the blog.
The Swirling Stars Quilt uses Triangles on a Roll in5.5″ Half Square Triangle Paper and 2.75″ Half Square Triangle Paper to make easy half-square triangles.
Giveaway Contest
Now that you have a great selection of patterns let us know which ones you'll use to sew your scraps up! We'll be checking on your progress throughout September as you post on Instagram with #FQSScrappySeptember. You can post your scrap stash, quilt progress, and finished projects. We love to see it all!
Update: This giveaway has ended. Congratulations to our winners Jessica Mora, Emerald, and SJP on Instagram!
If you post on Instagram between September 1 and September 29 using #FQSScrappySeptember you'll be entered to win one of three $25 Fat Quarter Shop Gift Certificates. You can enter as many times as you like throughout the month sewing with any pattern or stash-busting technique. We will announce the three winners on Instagram on September 30.
Share with #FQSScrappySeptember
Happy Quilting!