Keeping this secret under wraps is no easy task, but our 2023 Designer Mystery Block of the Month will be worth the wait! This quilt stars florals and inspirational geometric designs in 12 sampler blocks made with Sunnyside by Camille Roskelley for Moda Fabrics in a palette that's sure to brighten your day. Join us in making the 16th Annual Designer Mystery Quilt by Fat Quarter Shop.
This year's quilt is Full Size, finishing at 72.5" x 93.5″. The Designer Mystery Block of the Month runs from June 2023 through May 2024. Block of the Month members will receive a block pattern and fabric each month (and don't worry, there's a little extra included to allow for starching or miscuts).
The Block of the Month is made up of 12 blocks designed by 12 Moda designers, and each block measures 12″ square.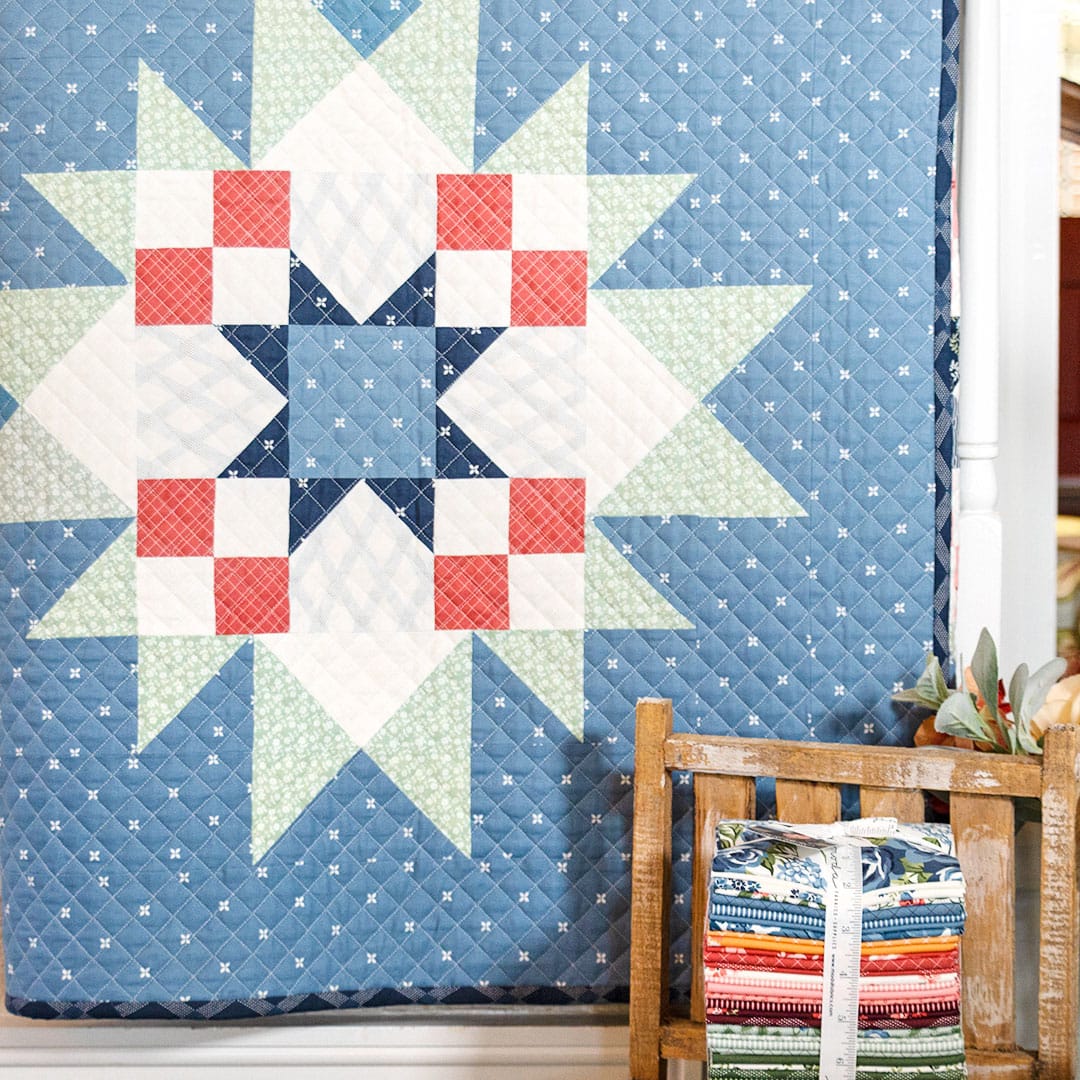 Block of the Month Supplies
The 2023 Designer Mystery Quilt is exclusive to Fat Quarter Shop, and you won't find it anywhere else! To complete your quilt, pick up the Designer Mystery Finishing Kit, which comes in a beautiful coordinating keepsake box perfect for holding your blocks and patterns. It includes the pattern and fabric for the sashing, borders, and binding to finish the quilt.
Reserve the Designer Mystery Backing Set to receive 5.75 yards of this lovely floral print and a bonus quilt label available ONLY with the purchase of this backing set. Both the Finishing Kit and Backing Set will ship with your first shipment of the Block of the Month.
BONUS: Since our BOM is generous with fabric, you'll often have enough to make extra blocks! Cutting instructions for 3″ and 6″ blocks will be shared each month! You can find out more from Kimberly in this Fat Quarter Shop Livestream video!
Optional Notions
If you would like some extra help making perfect half-square triangles without the fuss, we suggest using Triangles on a Roll Triangle Paper in H200, H300 and H400. For some help making flying geese, we suggest the 2″ x 4″ and 3″ x 6″ Foundation Papers. The 4″ Square in a Square Paper will also be helpful for some blocks. These notions are all entirely optional to use.
Guest Designers Featured Each Month
Twelve incredible Moda Designers contributed sampler blocks for this year's Designer Mystery Quilt! You may recognize some familiar faces and even meet some new ones.
We are sew excited to get started with 2023's Designer Mystery Block of the Month! It runs from June 2023 to May 2024 and will ship around the 10th of each month. Don't wait because spots are limited, and when they're gone, they're gone!
Meet your fellow Designer Mystery quilters by joining the Designer Mystery Group on Facebook (where you can ask questions and get support), and follow along on Instagram with the #2023DesignerMystery hashtag!
Have you sewed a past Designer Mystery Quilt? If so, please leave a comment and tell us all about it!
Happy Quilting!
Stay connected to Fat Quarter Shop!