We're back in the studio with Corey Yoder of Coriander Quilts to learn how she hand quilts! Corey grew up helping her mother and grandmother hand quilt their quilts since she was four years old. Corey uses a Big Stitch Hand Quilting technique designed to quilt easily and make a statement at the same time. We have a video tutorial so you can quilt right along with us!
Big Stitch Hand Quilting combines the use of boldly-colored thread and straight-line quilting to add another layer of design to quilts, pillows, tablerunners and more. This 12″ pillow top is the perfect size to try out Corey's technique, especially if you are hand quilting for the first time. Corey sewed using Sugarcreek Prints. She quilted with her coordinating Aurifil Thread collection, Sunny Stitches. Sunny Stitches is 12 wt thread, which is slightly thicker than the 50 wt we prefer for piecing, gives extra color and charm.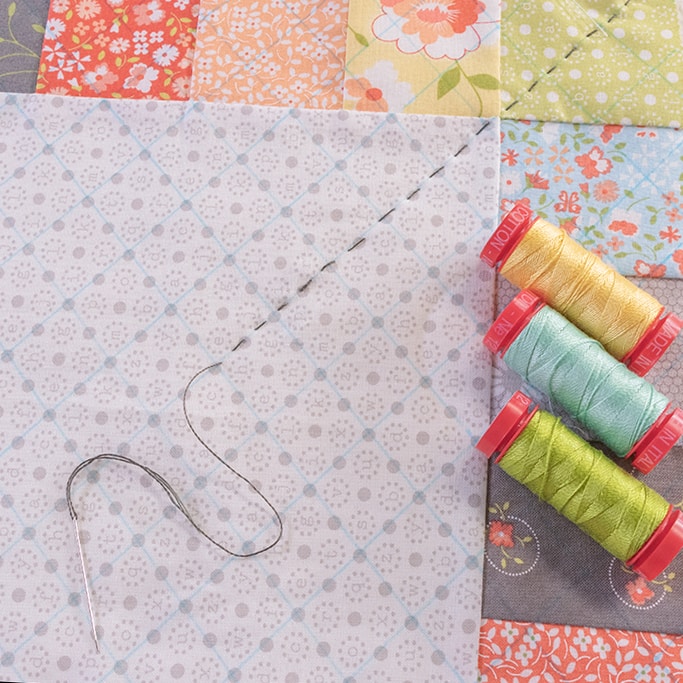 Gather your Hand Quilting supplies
In the first video, Corey goes over the list of supplies she uses to get started with Big Stitch Hand Quilting. If you are reading this via email, please click here to watch.
What you'll need
Watch the video tutorial
Now that you have what you need, it's time to get stitching!  Corey guides you every step of the way in this video tutorial. If you are reading this via email, please click here to watch.
Share your projects with us!
We want to know what projects you hand quilt! Be sure to tag @fatquartershop and @corianderquilts and use #fatquartershop so we can see and share your work! And all of these images can be repinned on Pinterest so you can share this tutorial with your friends or save it for later!
Happy Quilting!
Stay connected to FQS!